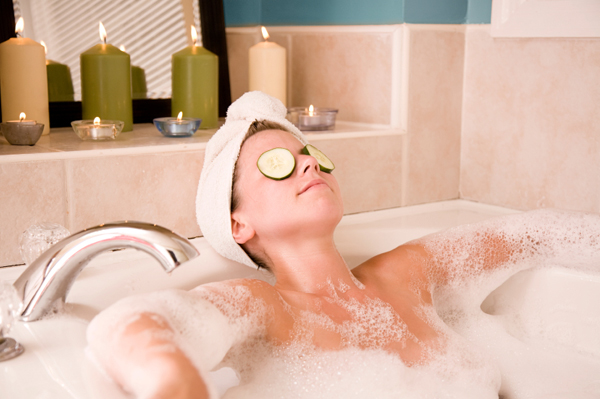 Be there for her
Sometimes a woman just needs to be asked how she's feeling or how her day is going. Sometimes she just needs someone to lend an ear so she can vent about how swollen her ankles are getting or how much she misses her daily fix of Diet Coke. Let her know that you are there for her... You don't have to have all the right answers or try to "fix" the way she is feeling. And you shouldn't judge her on anything she expresses.
Pamper her
When a woman's pregnant belly starts getting bigger, normal things like painting her toes or shaving her legs becomes a hassle (if not impossible). Send her off to a day at the spa to get her legs waxed, a pedicure or a soothing pregnancy massage. Better yet, spoil her yourself by lighting candles and drawing a bubble bath for her.
Send her flowers... or chocolates
Pregnant or not, every woman loves having a special gift delivered to her home or place of work (bonus points if she gets them at the office since she'll likely love the extra attention from her co-workers as they ask her why she received this surprise delivery).
Compliment her
Partners, tell her how much you love her newfound curves. Besties, tell her how gorgeous her full locks look lately. A little compliment can go a long way toward making a pregnant woman feel good about herself.
Gently advise she seek help
If the pregnant person in your life seems continually down in the dumps, anxious or downright depressed, don't ignore it. Gently talk to her about it, and then suggest she talk to her doctor about how she's feeling.
More on pregnancy feelings and pampering
Social support can help women avoid postpartum depression
Dealing with mixed emotions during pregnancy
Fun ways to enjoy your pregnancy