Mom-To-Be Relying On Family'S Help
Kate Middleton may be considering giving birth at a hospital near her family's home, sources say -- and it's expected that she will be staying with her parents both before and after her baby is born.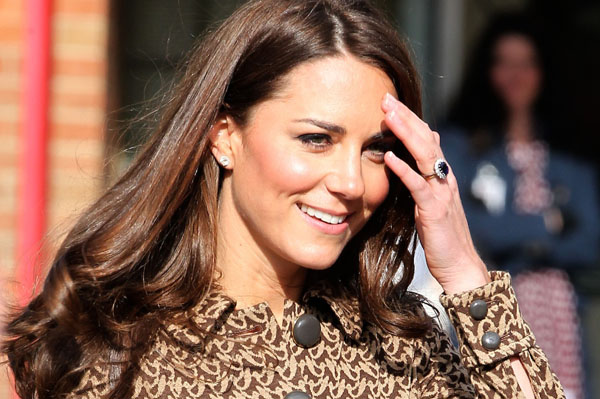 Who doesn't need a little extra help from Mom and Dad when you have your first baby? Not many of us would turn down that sort of assistance, and Kate Middleton is no different. It's reported that she will move in with her parents during the later stages of her pregnancy and is considering delivering at the hospital where she and her sister were born.
Still involved with her family
Yes, Kate Middleton is married to the Prince of Wales, and is pregnant with what may be the future leader of the UK, but Kate still loves her family and likely wants to be near them when her first baby is born. A source explains that Kate will be moving in with her parents near the end of her pregnancy and instead of traveling to where her husband and his brother were born (St. Mary's Hospital in Paddington) she may be checking into a hospital closer to her family's home, where both she and her sister Pippa were born (Royal Berkshire Hospital in Reading). She is also expected to stay there until her baby is around six weeks old.
Traveling when in labor
I never had to go far when I was in labor with my children. I chose to deliver at the only hospital here in town, which is ust a few mere miles from my home. It is set up with many obstetricians and a fully-staffed operating room in case of emergency. I was also allowed to attempt three VBAC births there. All were successful, but some hospitals don't allow VBAC trials.
I know that some local moms have chosen to deliver at a hospital in a larger metropolitan area about 45 minutes to an hour away. And I know that moms everywhere often have to drive an hour or more just to reach a hospital. Labor is not the most comfortable experience, and just the short drive that I have done four times was brutal. So I do not blame the Duchess in any way for wishing to shorten her labor travel time.
Help from Mom
I also don't blame her for hanging at her former homestead either. She likely has every luxury at her fingertips as the wife of the Prince of Wales, but you can't buy the love and comfort of home and the care of your own mother.
More on Kate's pregnancy
Kate Middleton's pregnancy body deemed "incredible"
Kate Middleton lookalike buys baby bump
Kate Middleton's pregnancy gives England baby fever
Photo credit: WENN.com