Ideas For Baby Pictures
Excited to take baby's first pictures? Newborn photographer Jackie Baughman of Cream n' Cocoa Photography is dishing out tips for taking photos of your little one.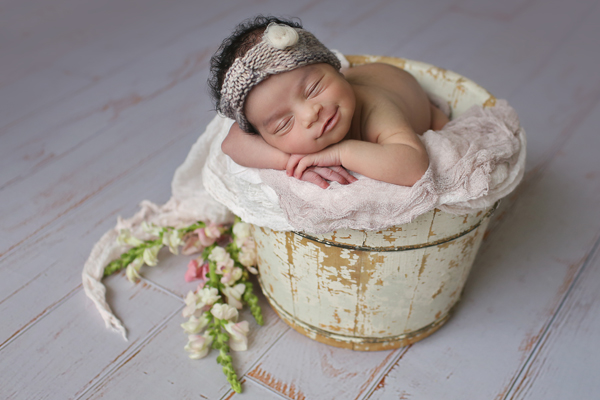 Babies grow up so fast so make sure to capture those precious moments when he or she is teeny tiny with a few newborn pictures.
While we recommend booking a professional newborn photographer if possible (they are totally worth the money), sometimes it's just not in the cards. Even if you do get professional newborn pictures, you still might want to capture a few extra memories at home.
Babies are best photographed within the first two weeks of birth. During this period they're typically sleeping a ton and are easy to put into different positions and poses. Plus, you'll be at home a lot recovering, so it's a great opportunity to bust out your camera and get a few snapshots.
We chatted with photographer Jackie Baughman of Cream n' Cocoa Photography and got her tips for taking pictures of your newborn at home.
Newborn photography 101
Jackie says there are a few key items to prepare for when taking pictures of your little one:
Keep it simple. Dress baby in a simple white onesie or swaddle him in a white blanket.
Use white or soft colored blankets as a background. Avoid loud prints!
Create a warm environment. Crank up the heat in your home to about 80 degrees.
Make sure your baby is safe at all times. Do not place the baby high off the ground. And even if the baby is propped on the couch or chair, please have a spotter.
SheKnows Pregnancy & Baby: How can mom create a relaxing environment for baby at home?
Jackie Baughman: Warmth and white noise are great! Also, a sponge bath can wear out a newborn and get them tired enough to get into a good sleep for photos.
P&B: What about light? Is it safe to use a flash when photographing a newborn?
JB: You can use a flash, but some newborns will react to it. Again, make sure your newborn is not placed anywhere where they might startle and fall!
P&B: What are some details moms should try to capture?
JB: Fingers, toes, umbilical cords -- all of the small details of a baby are great memories! I love small lips, especially when they make "bubbles."
Many people do not like to photograph the umbilical cord stump because they hate the way it looks. While I don't include it in all my shots, I certainly don't mind to have it in some, as this was your baby's lifeline for nine months. That little cord is the reason you have your precious gift!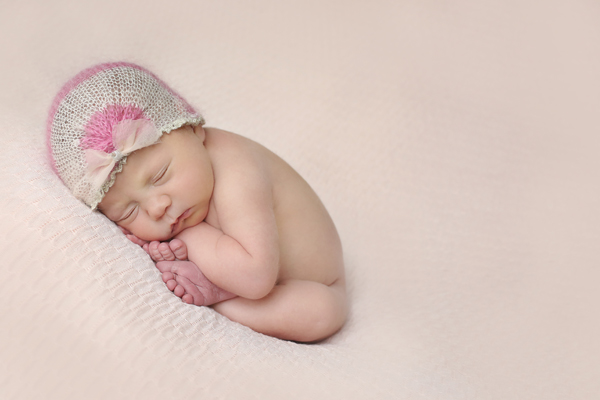 P&B: Are there particular angles that work well for taking newborn shots?
JB: Sometimes it's hard to make sure the baby is not slumped too much or that his or her whole face is showing. If you are having trouble, include your spouse so they can hold the baby in order to get a good shot. If the baby looks uncomfortable to you in real life, he or she will look that way in the photo too. So make sure your baby is not distressed for any reason.
P&B: We love how you are able to get pictures of newborns smiling. What's your secret?
JB: Oh wow, that's a tough one! There are certain "signs" that newborns give when they are going to "smile" (not that it's a real smile at this point, but it sure does look like one). Most often, they will be in a light sleep cycle and you will see their eyes and lips moving small bits. If I see this starting to happen, sometimes I will gently stroke their face to see if I can encourage more facial movements.
Usually, it just happens on it's own and I'm just lucky to be snapping photos. I can't tell you the number of babies I've sat and watched for five minutes straight thinking they would do it, gave up, and then that baby breaks out into a huge smile as soon as I put the camera down!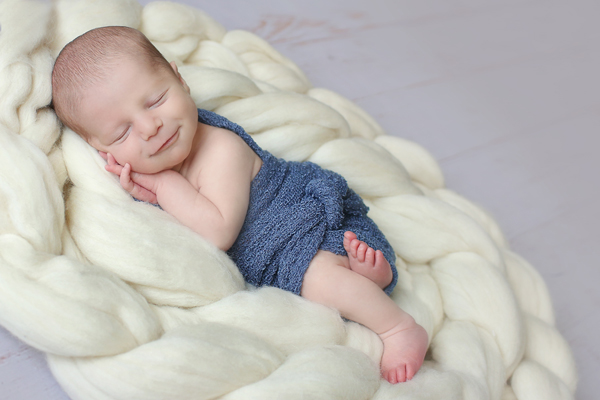 Words of advice
Jackie says if you're not able to hire a professional photographer to capture memories of your newborn then stick to two basics. First, keep it simple "because as much as you may love that crazy bow now, you may not love it as much in 20 years." 
Secondly, and perhaps most importantly, she says "make sure your baby is comfortable and safe while you are photographing him or her."
Photos courtesy of Jackie Baughman and
Cream n' Cocoa Photography
More on baby pictures
Sharing your baby's pictures on social media
5 First birthday picture ideas
Tips for taking quality pictures of your children