Designer Baby Gear
Cybex, the modern baby gear company, has teamed up with designer Jeremy Scott for a new collection. Take a look.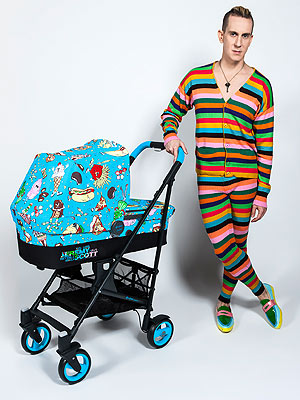 Cybex recently announced a new collaboration with designer Jeremy Scott for a limited edition 'Food Fight' collection. Cybex is known for urban chic modern baby gear designs, but the products tend to focus on single bright colors. Now they are kicking it up a notch by teaming up with Scott for a series of quirky food-themed prints.
The collaboration is a bit of a surprise since Scott is more known for dressing up Lady Gaga rather than going gaga for babies, but the collection is a cool display of what happens when funky fashion meets baby gear.
Scott has a reputation for funky patterns and bold designs and the new baby line continues in the same spirit. The collection, titled 'Food Fight', is a playful pattern of junk food combined with bright colors. Hot dogs, hamburgers, pizzas, pretzels, popcorn, fries, cotton candy and milkshakes are scattered across the fabric, which pop on a bright blue background.
Take a closer look and you'll see the junkfood is actually fighting -- with some characters even rocking boxing gloves. All except the milkshake that is. She's sitting pretty in a Betty Boop-esque pose looking sweet.
The stroller gets an extra dose of color splash with wheels and the handle bar in the coordinating blue color.
Take a look at the new collection:
Callisto 3-in-1 system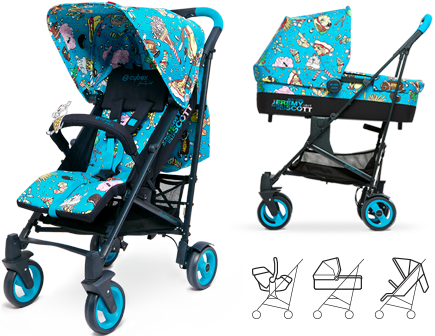 Onyx stoller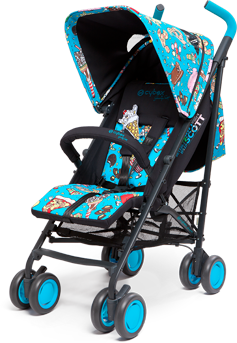 Aton 3 carseat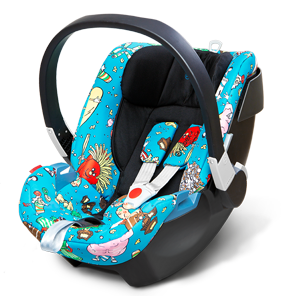 2 Go Baby Carrier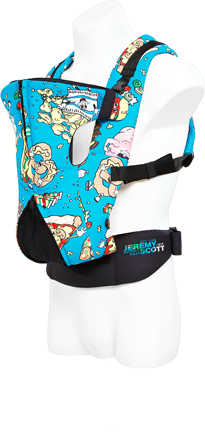 Baby Bag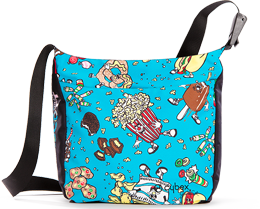 Get more information by visiting CybexbyJeremyScott.com.
Tell us: What do you think of the new Cybex by Jeremy Scott collection? Is it going on your baby registry or will you pass?
More on baby gear
Green up your baby gear
Baby gear to make mom's life easier
Pottery Barn kids 2013 summer collection