Baby'S First Photos
Want to capture those first precious days of your new baby? Jackie Baughman of Cream n' Cocoa Photography is sharing her tips for working with a newborn photographer.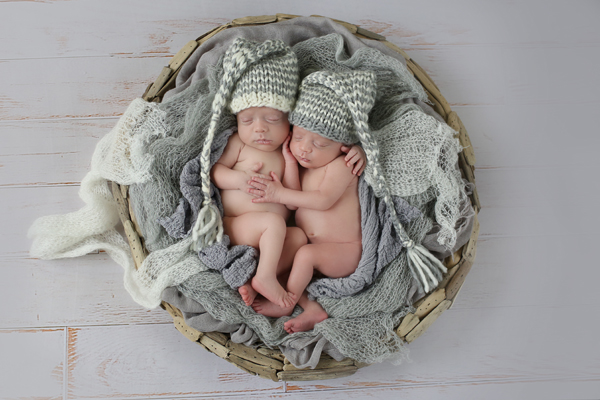 Those first professional photos of your sweet newborn will have you "oohing" and "aahing" for years to come. Don't settle for the photographer that snaps a couple of quick shots of baby in the hospital. Instead, get memories that'll last a lifetime by hiring a professional newborn photographer.
We chatted with the talented Jackie Baughman of Cream n' Cocoa Photography and got her tips for capturing those precious newborn memories.
A baby booming business
Jackie's love for photography started in college during the days of film and dark rooms, but she only pursued it as a hobby. When her youngest child was 9-months-old, she made the decision to quit her day job and stay at home with the kids. Her husband encouraged her to pursue her passion.
"[My husband] bought me my first SLR camera so that I could have a hobby with all my new 'free time' as a full time mom (now that sounds kind of funny since mom's are always on the clock!)," she recalled.
Her first newborn photo shoot was of a baby only 5 days old. Once she started photographing teeny babies she was hooked!
"What started out as fun soon became an obsession and I began taking photos of friends and family to practice. Soon people were asking me to take their photo and I was delighted!"
It's been almost three and a half years ago since she started doing newborn photography and business is booming.
Hire an experienced photographer
It's important to hire a photographer who knows how to work with newborns in particular. "Most people think it's easy because they assume the baby just sleeps the whole time which is only partly true," Jackie said. "Yes, they do sleep, but some are light sleepers and you have to be an experienced newborn photographer to understand how to work with newborns and safely pose them while sleeping."
Luckily photographers can get creative with newborn poses once they know how to properly position them. "I love trying out new poses and angles and trying to find the best way to capture each family's tiny miracle!"
Jackie's best advice to anyone wanting to photograph newborns is "practice makes perfect."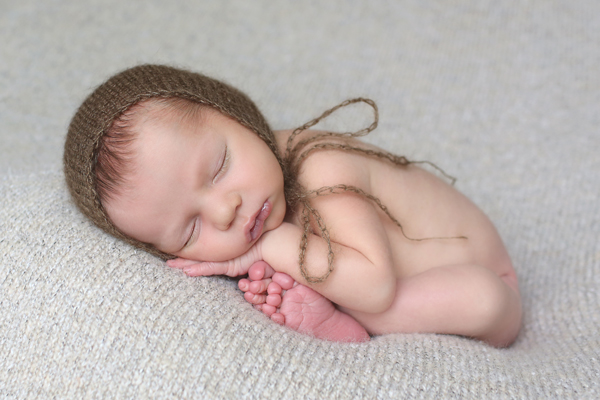 It's not all glamorous
While you'll probably enjoy seeing your little one photographed and getting coaxed to smile, the experience can be, well, messy at times.
Jackie's least favorite part about working with newborns?
"Getting peed and pooped on!!! It happens quite a bit!"
Babies can also get fussy at times and an experienced photographer should have a few techniques to help calm them.
When to book your newborn session
Jackie says most photographers book expecting moms around 30 weeks, but some book up much earlier. She frequently books clients in their first trimester!
As an expecting mom, I was baffled at how quickly newborn photographers can book up. I found the most desirable, creative photographers book up well in advance and recommend scheduling your newborn photography session as soon as you can so you can get the photographer you really want.
How to find a local photographer
Not surprisingly, Jackie says word of mouth is the best source of referrals for moms. She recommends simply asking other moms who they used, check out their pictures and ask about their experience.
"You can do web searches, but you may not see all your choices that way." Jackie explained her own site doesn't even come up in a search for her city and newborn photography. Since many photographers focus on creating their art rather than building up their web presence, it makes sense why doing a simple Google search for newborn photographers in your area won't necessarily list all your options.
Interview your photographer
With your baby only being a few days old when photographed, it's important you find someone you're comfortable with -- so interview them.
Some photographers like Jackie give clients information that addresses most questions at the time of booking.
Jackie recommends doing the following:
Take a look at the photographer's portfolio to make sure they are the types of photos you want.
Make sure you understand a photographer's pricing structure so you are not surprised after the shoot.
Make sure there's a plan set up as to how you will connect to coordinate the shoot once your little one arrives.
Is the studio set up for newborns?
Babies just a few days old have special needs and you want to make sure the studio is equipped to accommodate them.
"Newborns love to be snuggled and warm," Jackie explained. "I have a sound machine as well as heating pads, which I adjust to each individual newborn to keep them warm and safe."
She also keeps lots of clean blankets around to catch any baby messes that happen during a session to keep baby clean.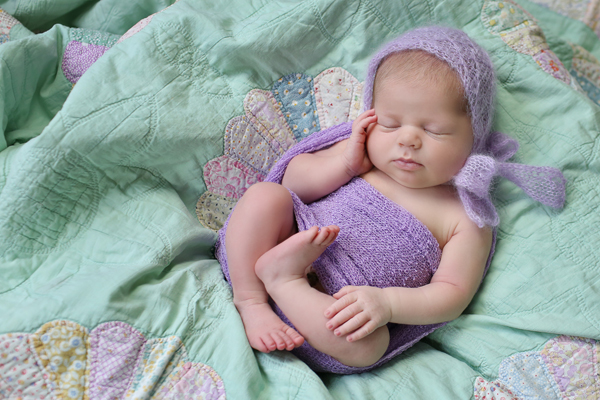 Who provides the props?
Have your heart set on getting a picture of your baby in a tub or wearing a certain hat? You'll want to discuss props with your photographer well in advance.
"Your newborn photographer should provide props," Jackie said and she advises moms to "book a photographer that owns a wide variety of props that fits their style."
Some of the newborn hats she uses can run upwards of $50 and there are some sets where $500 worth of props are being used.
Exceptions would be if there was a special family heirloom or memento you wanted to include in the pictures.
If there is a particular theme or color scheme you'd like to see in the photos, makes sure to discuss this with your photographer in advance so he or she has time too coordinate the necessary supplies.
What should mom and dad wear?
If you're planning to do a family photo session with your baby you'll want to coordinate outfits.
"I personally love simple," Jackie said. "I always worry that if there is too much trendiness in the parent's clothing they could look back on it in several years and say 'what was I thinking with that outfit?!?' I tell my parents to wear simple white tees and jeans/khakis."
Make sure to discuss outfits with your photographer since some only photograph certain parts of the body and you might not need a full outfit. "I only photograph my moms from the breast area up so sometimes I even take swaddles and tie them around the mom to create a delicate, simple look."
What about pops? "I love dads in a good ol' white tee with their little one in their arms -- it's timeless!"
See more of Jackie's work by visiting www.creamncocoaphotography.com.
Photos courtesy of Jackie Baughman and Cream n' Cocoa Photography
More on baby pictures
Sharing your baby's pictures on social media
5 First birthday picture ideas
Tips for taking quality pictures of your children