Mamas On The Move
Organizing a move is no fun, especially if you have a bun in the oven. Fortunately we have tips to help make the move easier for you and baby.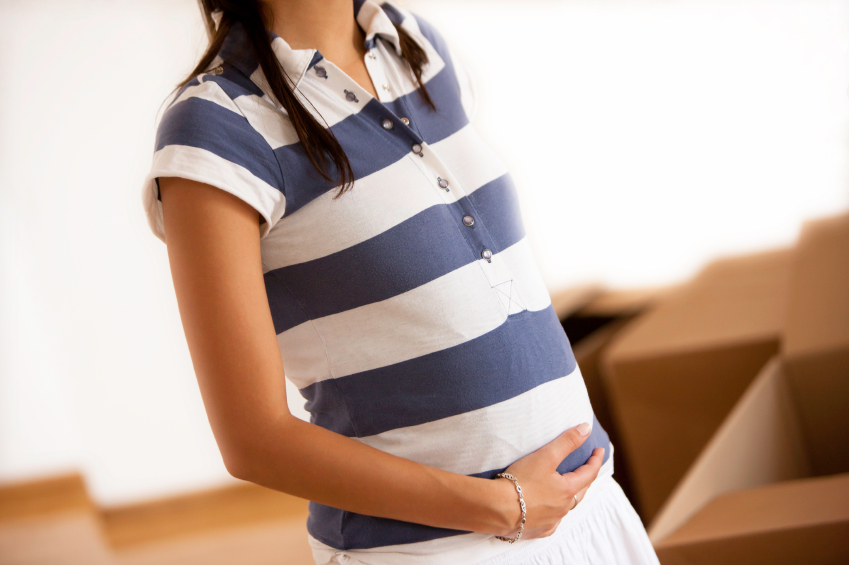 Moving while pregnant or with a new baby is a common challenge. First you find out you're preggo, then you realize there's no way your fabulous studio apartment can accommodate another human being, so... you decide to move.
Besides the actual task of finding a place to accommodate your growing family and getting past the joys of packing while battling pregnancy fatigue, you have to actually plan all the logistics involved with a move. Luckily, we have tips on how to prepare for a move from Unpakt, a site that helps you research and book local movers.
10 Tips for moving
1. Research and contact potential babysitters, nannies or the new daycare prior to moving
Whether you're still expecting your child or your newborn has already arrived, eventually you are going to need a night off! Finding a credible, trustworthy babysitter in advance of your move will help you to avoid last minute scrambling the night of an important obligation. Websites such as care.com offer a resource for babysitters, nannies and child care centers all in one place.
If your toddler is a bit older and will be joining a new daycare facility, make sure all paperwork, such as immunization forms, have been completed and provided to the care center. Consider asking for a tour of the daycare with the child's new caretakers to help your little one get acclimated.
2. Change your address before you move
It will take some time for all of your mail to be sent to your new address (most mail forwarding services take 7-10 days to be implemented). Making the change ahead of time will ensure you receive your mail after you move, and as a new or expectant parent you don't want to miss important hospital documents, social security card information, congratulation cards from family and friends, etc.
3. Arrange your services
Locate important services before you arrive in your new location. If you're moving far away, seek recommendations from your current providers for new pediatricians, OB doctors or other priority needs in order to establish those relationships before you arrive.
Whether you're pregnant hoping to find a great prenatal yoga or birth class, or the mother of a young toddler looking for playgroups to join, the local paper in your new town can be a great resource. Pick out some fun things to do and sign up! It's a great way to meet new neighbors and make friends in the community.
4. Book your move early
Hiring a moving company will make your move quicker and more efficient. For help, consider using Unpakt.com to find local moving companies, research prices, and book the one you want. You can worry about the children and let the movers worry about the rest!
Ask for references and read reviews of the company before signing a contract. Unpakt can help you make sure you're working with safe, reputable movers since they use a self-screening process.
5. Don't pack important papers and documents into random boxes
Keep documents such as social security information, birth certificates, closing papers, credit card information, etc. on hand so you can easily access them at all times. If you're pregnant and close to your due date, make sure your insurance and hospital information is easy to find. Parents of babies or toddlers might need to show proof of immunizations and other records when enrolling them into daycare.
6. Pack up your child's favorite belongings in one box ­
Keep this box with you to open as soon as you move in. This will help to create a familiar place for your child in the new home. Even if they are too young to unpack the box on their own, having familiar and comforting items around will serve as a source of calm whether they are newborns or already toddlers.
7. Visit your favorite places in town before you go
Before you move, make one last trip to you or your children's favorite places (whether it's a restaurant, the park or their favorite toy store) and take some pictures. If you're an expectant mother it will be nice to remember a few of the favorite places you "carried" your child in your old town, and if your toddler has a favorite park or swing set it will be a nice bonding experience to visit these places together before you move.
8. Let your big kids get involved!
Get older kids excited about the move by creating fun ways to label their most important items (i.e., their favorite teddy bear or toy). Let them label their own boxes with drawings and stickers and encourage them to plan how to decorate their new room. Involving your children in fun ways will help them associate moving as something fun.
If you're pregnant, take on a creative project such as scrapbooking memories from your old house to share with you unborn child once they are older. This way they will be able to see and experience a home they technically "lived" in, even if they weren't born yet!
9. Unpack your baby's room first
Moving is exhausting for everyone, but organizing your child's belongings first will help to keep them calm while you unpack the remainder of the house. If you're pregnant, you may want to also focus on unpacking your bedroom early on so you have a peaceful place to rest, if needed.
If baby's due date is close, make sure to set up all the basics you need -- a bassinet or crib, changing station, swaddle blankets and a few basic outfits. Once the essentials are unpacked, have fun decorating your nursery so you have something to look forward to once baby comes home.
10. Keep the mood as light as possible
Be patient with your young child (or partner and father-to-be) if they mess up or get anxious about the move. Stay focused on the big picture. You're moving to your wonderful new home and new adventures are in store!
More home tips
How long should you keep your baby at home?
How to clean with a baby in tow
Shocking news: Women like men who help around the house