Big And Small Ways To Go Green
Earth Day 2013 is Monday, April 22. See what you can do that's good for both the planet and baby too.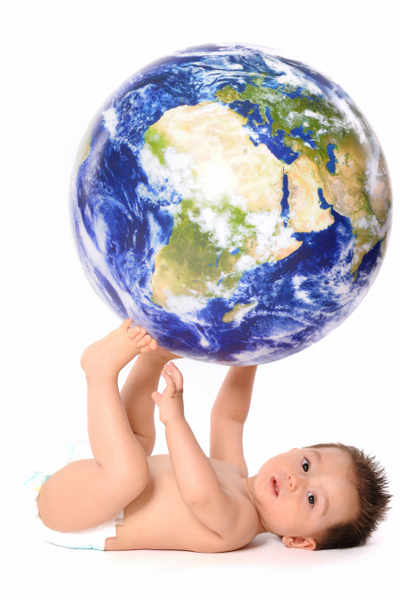 Since the first Earth Day was celebrated in 1970, environmental awareness has been promoted as a way to educate the public about sustainability and environmental concerns.
Popular Earth Day ideas include planting a tree, recycling, planting a garden, using your bike or walking instead of a car, or turning off or unplugging unnecessary electronics.
In honor of Earth Day, we've rounded up a few ways you and baby can participate in some planet-friendly practices year-round.
Plant something
Small step
OK, not a totally unique Earth Day idea, but planting a tree is a great way to kill two birds with one stone. If your baby was born this last year, planting a tree on Earth Day can also serve as a "birth tree" for your little one. Each year on his or her birthday, take a picture of them standing next to the tree to document growth.
Big step
Plant a vegetable garden you can use to make your own baby food. Pumpkins, squash, sweet potatoes, peas, carrots, and green beans are relatively easy to grow. When it's time to harvest, you can spend a few days making baby food in bulk and sticking it in the freezer for easy use down the road.
Diaper duty
Small step
Not sure if you can handle the switch to cloth diapers? Nancy Lee, president of MyRegistry.com, suggests checking out The Honest Company, which she says is known for their biodegradable diapers and wipes. The company also uses only 100% renewable and/or recycled materials in their packaging.
Big step
Today's reusable diapers are not your grandma's old cloth diapers. Made for convenience and ease of use, cloth diapers have come a long way and are no longer just for the hippie crowd. Snap and velcro closures means the diaper stays put on baby's bum and many feature a special tunnel design to make it easier to clean out the dirty work. Help reduce the waste of disposable diapers and give cloth diapers a try.
Sustainable toys
Small step
Make an effort to buy baby toys made from environmentally friendly materials. This colorful stacker from Green Toys is made from 100% recycled plastic milk containers which helps save on fossil fuel use and reduces green house emissions. There's no BPA, PVC, phthalates or external coatings, which makes it a safer option for baby. Plus, it's made in the good old USA.
Big step
For an option that keeps old toys out of landfills, check out Spark Box Toys, a toy rental service. Each month a new batch of toys is delivered to your house and when baby is done playing with them, you simply package them up and ship them back. The toys are then sterilized and cleaned before being sent to the next customer. After awhile, toys are then donated to inner city schools.
Eco-chic clothes
Small step
If buying new baby clothes, make an effort to look for ones made from sustainable sources. Companies like Coyuchi uses 100 percent certified organic cotton and natural fibers in their products which are also free from toxic dyes and finishes.
Big step
Want to buy organic clothes, but worried about the price tag? Check out KinderStuff, an online store for kid clothes that's made in the United States from 100 percent organic material. The company ships directly to customers, cutting out the middlemen stores and saving you some green in the process.
Wondering what to do with kid clothes that are gently used? The company has a recycling program where you can trade in used clothing for a discount on other items. The used clothes are sold in the hand-me-down section on their site. Some items are also given to local children's charities. Makes buying organic clothing more affordable and helps keep kid clothes that are only used for a short period of time out of the trash.
Share what you're doing
This year the Earth Day Network is promoting their Face of Climate campaign online where visitors can post a picture of either how they are affected by climate change or what they are doing to do something about it. If you and your family are making a change to help minimize your impact on the environment, consider sharing it online.
More earth-friendly baby products
Green up your cleaning routine with Dapple products
Books for tiny tree huggers
Review: Innobaby Smart products make mealtime fun