What To Pack For A Hospital Birth
At 37 weeks I'm gearing up for baby and finalizing my labor bag checklist for the hospital. See what I'm planning to take.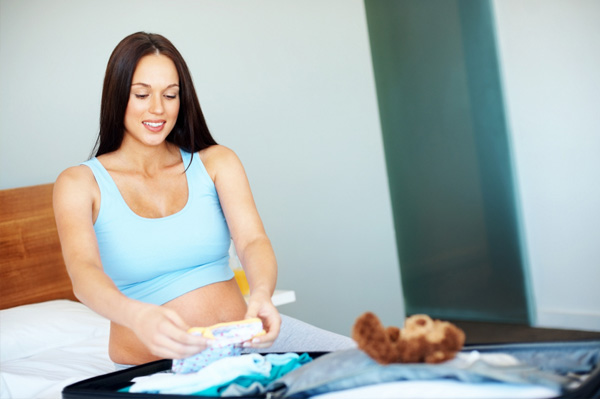 I've had a basic bag packed for a few weeks just in case, but now I'm making a list and checking it twice to make sure we have everything we need for our birth adventures.
Being a first-time mom, I gathered insight from family and friends, our birthing class, our doula, and parenting books to put together our labor bag checklist.
Luckily, I have a Mommy Maternity Essentials bag that has a few of the basic items, but here are the other items I'm planning to take broken up into how they'll be packed – before the birth and after:
Labor bag
Paperwork:
Birth vision (3 copies)
Copy of health insurance
Copy of driver's license
Cash and change for vending machines and cafeteria
Birthing supplies:
Hypnobirthing book
Guided meditation CDs (MP3 files saved on iPhone for convenience)
Lavender massage oil
2 Pillows with distinguishable pillowcases (ones that would be ok to ruin)
Birthing ball (optional since many hospitals typically provide these, but some women like using their own)
Hot and cold packs
Toiletries:
Makeup (While I'm not planing to get dolled up during the hospital stay, a little concealer, blush and lip-gloss might come in handy for those first pictures with baby) 
Travel bag of toiletries: Shampoo, conditioner, body wash, lotion, a razor, toothbrush and toothpaste
Unscented chapstick (to keep those kissers moist during birth breathing)
Clothes:
Swimsuit for the hydrotherapy tub
Flip flops
Robe
Slippers
Socks
Sweatpants for walking around
Delivery gown (I wanted an alternative option to a yucky hospital gown so I got a pretty delivery gown. If I don't use it for the birth I can use it as a nightgown.)
Snacks:
Odorless snacks for birth partner
High-energy snacks for a natural labor: Clear electrolyte drinks, honey sticks, popsicles, jello, protein bars
Sugar-free candies to suck on
Last minute items to pack:
iPhone (Our guided meditations are saved as a playlist and I can use WebMD's pregnancy app to time surges)
iPad (Our birth vision and handouts on birthing positions are saved in Dropbox. Can also use to watch movies if we get bored)
Digital Camera
Chargers
Recovery room
To celebrate:
Sparkly cider for mom
Champagne for family and friends
Post-delivery treats
List of people to call after birth
A notepad (To jot down tips from the lactation consultant and nurses)
Personal items:
Pajamas (I'm packing one cute new set I can wear with visitors and one grungy set I don't care if it gets ruined)
2 Maternity bras: One for sleeping and one with more support.
Nursing pads
Extra underwear (The hospital will have disposable ones on hand, but it's worth packing a few of your own too)
Comfy clothes to wear home (Most people say don't bother packing your pre-maternity clothes since they won't fit (sigh). I'm sticking to comfy maternity clothes – maybe some leggings and a shirt dress)
Maxi pads (Just to have a different option than what the hospital provides) 
For baby:
Coming home outfit: Onesie, undershirt, hand mittens, cap
Swaddle blankets
Car seat
Extra bag to bring home anything we get at the hospital
Whew, that's a lot of stuff! It will be interesting to see how much of this gear actually gets used, but I'd rather be overprepared with no regrets.
More tips for packing your hospital bag
Hospital bag checklist: What are you forgetting?
5 Labor bag essentials for your birth
4 Stylish alternatives to maternity hospital gowns