A Surprise Party Favor
Jessica Simpson's baby shower had vintage details and a rather unconventional party favor for guests.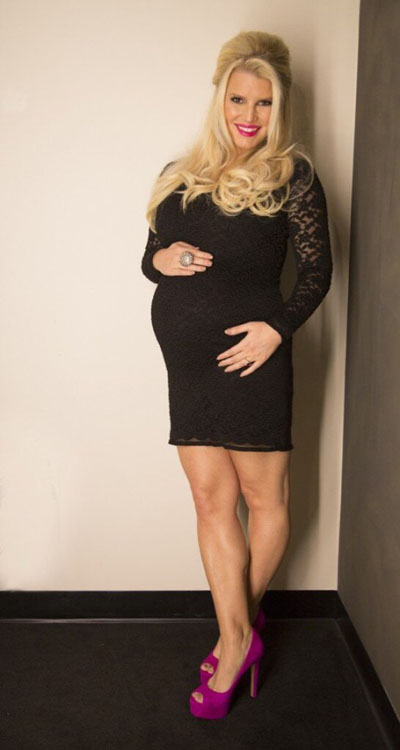 Pregnant Jessica Simpson got showered with love this Sunday at her elaborate baby shower in honor of her baby boy due later this spring.
The baby shower was held in the gardens of the Hotel Bel-Air in Beverly Hills. Simpson's family and friends gathered to celebrate the fashionable mom. Actress Jessica Alba, hairstylist Ken Paves, former assistant and bestie CaCee Cobb, and of course little sister Ashlee Simpson attended the afternoon soiree.
The Fashion Star mentor was given a fabulous Tom Sawyer-themed bash coordinated by celebrity event planner Mindy Weiss. Weiss gave a peek inside the baby shower in a behind-the-scenes video, which appears on People.com.
Vintage flair
Weiss let the natural beauty of the gardens stand out by keeping the party decorations rather simple for such an elaborate affair.
Weiss said Simpson loves both yellow and flowers so wooden picnic tables with yellow-checkered tablecloths and floral arrangements were arranged throughout the gardens. A charming old wagon was repurposed as baby shower decor when filled with grass and flowers which Weiss shared a photo of on Instagram.
An eclectic collection of vintage furniture from Found -- a furniture rental store -- was placed under a gazebo where Simpson could sit and open presents.
On the menu
Guests were immediately welcomed to the party with a cocktail station that served champagne paired with blueberries served in vintage baby bottles which Weiss called their "signature boy drink."
Even though Simpson is watching her weight with this pregnancy and working out with a personal trainer three times a week, the baby shower menu was all about traditional Southern comfort food. Guests noshed on pigs in a blanket and grilled cheese sandwiches. Weiss told People.com Thousand Island dressing was served at the salad bar because Simpson was craving it.
Go fish...for a shocking party favor
Before guests left the shower, they were supposed to stop at a little fishing booth to collect their party favor. According to Weiss, the party favors were blue nail polishes from OPI, lip gloss, and, surprisingly, condoms since "This baby was a surprise for Jessica and Eric."
More celebrity bump news
Halle Berry Pregnant again at age 46
Kate Middleton's pregnancy body deemed "increadible"
Lindsay Lohan's April Fool's pregnancy