Good For Baby,
Good For The Planet
In honor of Earth Day on Monday, April 22, 2013, we're searching for the best eco-friendly baby products. We chatted with Nancy Lee, president of MyRegistry.com, and got her picks for must-have green baby gear.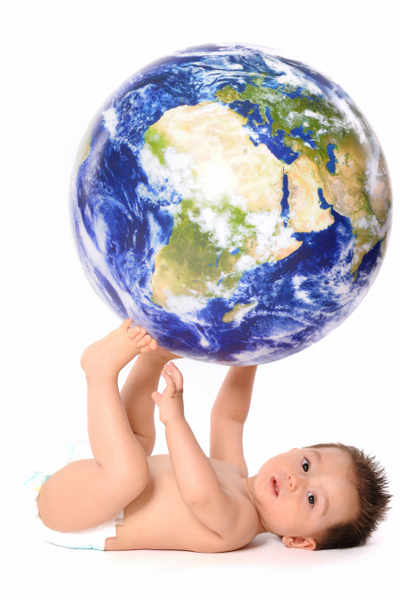 As president of MyRegistry.com, a cool online universal gift registry, Nancy Lee knows what's on the lust list for new parents-to-be. Sure, "green" baby products have been all the rage for the last several years, but savvy parents are starting to pinpoint which companies are actually walking the walk vs. talking the talk when it comes to their eco-friendly practices.
Nowadays, not only is it hip to be green, but more parents are getting on board with earth-friendly concepts as they realize they want to keep the planet sustainable for their little one's future.
As we gear up to recognize Earth Day this April, we're looking at top-notch eco-friendly baby gear you'll want to check out.
Earth-friendly baby gear Q&A
SheKnows Pregnancy & Baby: Why is it important for parents to find products that are friendly to both baby and the planet?
Nancy Lee: It's a personal choice really. But, there is something about having a baby that makes even the most carefree person start to worry about germs, and toxins. You do not have to be overly green to want to fill your gift registry with pure and organic products – especially, since these are what will be touching your baby's skin. These reasons and more are why over 90% of our incoming baby registries have at least one environmentally conscious product on it. We see the trend growing annually.
P&B: What are the most popular earth-friendly products parents can use on their baby?
NL: There are many different categories of earth friendly products, from organic clothing and carriers, to BPA and toxin free products, to homemade baby food. Everyone seems to have their own way to contribute to this "green baby revolution" and it is all very positive.
P&B: What should parents look for to know if a product is really eco-friendly?
NL: Read your labels!!! At first glance, many products may appear to be environmentally friendly, but really aren't. In the end, new parents need to be the judge of what products are going to come close to their baby. So, it is important that they educate themselves about the various products available.
P&B: Are disposable diapers still a no-no for parents who want to be green?
NL: There are many new options for parents that want the convenience of a disposable diaper, but still want to be green. At MyRegistry.com our favorite new green diaper line hales from The Honest Company, known for their adorable biodegradable diapers and wipes. As a company they are using only 100% renewable and/or recycled materials in all their products, packaging, and shipping materials. Does it get any better than that?
P&B: What products are available for parents who want a diaper that's kind to the planet, but also has a low "ick" factor?
NL: HA! If you are afraid of a little "ick" then do not have a baby. No, seriously, there is without question some "ick" associated with cloth diapers, as well as with the hybrid diapers -- like products coming from two innovative companies: gdiapers and GroVia. However, they are certainly worth trying. Many new moms find the hybrids to be very convenient and the "ick" factor is not really any greater than changing the diaper to begin with.
P&B: What are some of your favorite eco-friendly baby brands?
NL: The Ergo Baby Company is one of the pioneers in making organic and ergonomic baby carriers.
Under The Nile, has been offering organically grown cotton baby clothing that we see on so many of our MyRegistry.com member's registries.
Born Free, for their BPA and PVC free baby bottles and accessories.
P&B: Name 3-5 products that should be on our radar as must-have earth-friendly baby products.
NL: Homemade baby food makers have gotten much more reasonable, and should be on every registry. The Beaba and the Baby Brezza are two of our favorites.
Aden and Anais's organic muslin swaddlers and crib sheets are a must have for any registry.
The Honest Company's biodegradable diapers and wipes in all of the colorful patterns are totally irresistible.
P&B: How can moms-to-be create an earth-friendly baby registry that's easy for family and friends to access?
NL: As there is no actual green-baby superstore, many expecting families that want to create an eco-friendly baby registry prefer to use a universal system, like MyRegistry.com. By doing so, they can hand select numerous items from a variety of boutique websites that specialize in a particular product. A universal registry is the best way to register for everything that you want without being tied to one particular retailer.
About MyRegistry.com
MyRegistry.com is the leading universal gift registry website. Members can add gifts to their registries from any site on the Internet, tastefully register for cash gifts, and sync existing store registries onto one universal gift list. Members may easily announce their registry using customized E-Cards or share it on Facebook and Twitter. Notably, the company now provides members with the opportunity to let their Pinterest followers know about their registry via a custom pin that can be pinned to a Pinterest pinboard.
More eco-friendly baby products
5 Eco-friendly baby cribs
Dapple products can green up your spring-cleaning routine
Mum and Bub: A new skin care line for moms and babies