Zipper Can Pose A
Choking Hazard
Eight styles of footed one-piece baby clothes made by Carter's have been recalled due to possible choking hazard. Learn what to do if you have one of these items at home.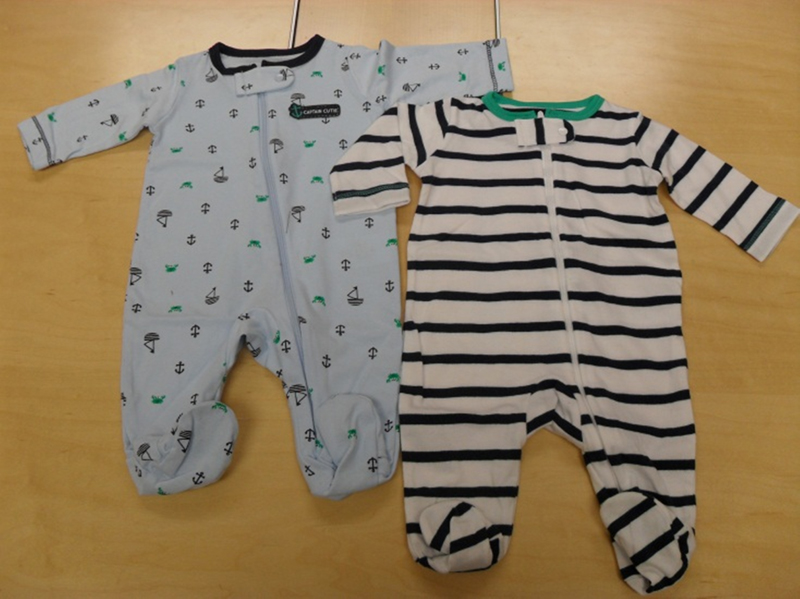 Carter's is one of the most popular manufacturers of children's clothing in the United States. The company is currently recalling approximately 218,000 footed coveralls in cooperation with the Consumer Product Safety Commission (CPSC).
Product description:
The recall involves eight different styles of Carter's footed cotton clothing for infants. Sizes sold include newborn, 3, 6 and 9 months. Each piece of clothing has a zipper that goes from the foot to the neck. Each piece of clothing has a label made by Carter's on the inside with the name of Baby B'gosh, Child of Mine, Made by Carter's, or Just One You made by Carter's. The specific style number is printed on a label in the side seam.
Recalled Carter's products
Brand: Baby B'gosh
Style Number: 414-208
Description: Yellow with white quarter moons and gray and white stars print.
Brand: Child of Mine
Style Number: 715-839 
Description: Baseball-style, white with blue stripes, yellow accents and "Little Brother" printed on the chest.
Brand: Just One You
Style Number: 520-242
Description: White background with navy stripes and green neck binding. Sold as a 2-pack with:
Style Number: 597B537
Description: Light blue with a nautical and green crabs print and "Captain Cutie" on the left chest.
Style Number: 520-243
Description: White with a pink cupcake print. Sold as a 2-pack with:
Style Number: 597B538
Description: Pink with small polka dots and a bunny ballerina on the left chest.
Style Number: 520-244
Description: White with green stripes and an elephant and duck on the left chest. Sold as a two pack with:
Style Number: 597B539
Description: White with a gray elephant, gray bear, green frog and yellow duck print.
More pictures of recalled Carter's items are available on www.cpsc.gov.
When/Where it was sold:
These Carter clothing items were sold nationwide at OshKosh B'gosh (also sold online at www.oshkoshbhgosh.com), Target and Wal-Mart from December 2012 through January 2013. The items ranged from $7-$20.
Reason for recall:
The zipper pull can detach from the clothing which poses a choking hazard to infants. No injuries have been reported to date.
What you need to do:
Immediately stop using the clothing. Return it to Carter's for a full refund.
Company information:
For more information call Carter's at (888) 282-4674 from 8 a.m. to 4:30 p.m. CT Monday through Friday or go to the company's website at www.Carters.com and click on Product Recalls.
Photo courtesy of CPSC
More product recalls
Recall: Bumbo baby seats
Recall: Target Circo brand pajamas
Recall: Fisher-Price Rock 'n Play infant sleepers