It's Like Netflix For Toys!
Spark Box Toys is a monthly toy rental service where the toys are tailored to your baby's age and developmental level. The best part? It's delivered right to your doorstep! See why it's on our must-have list for moms.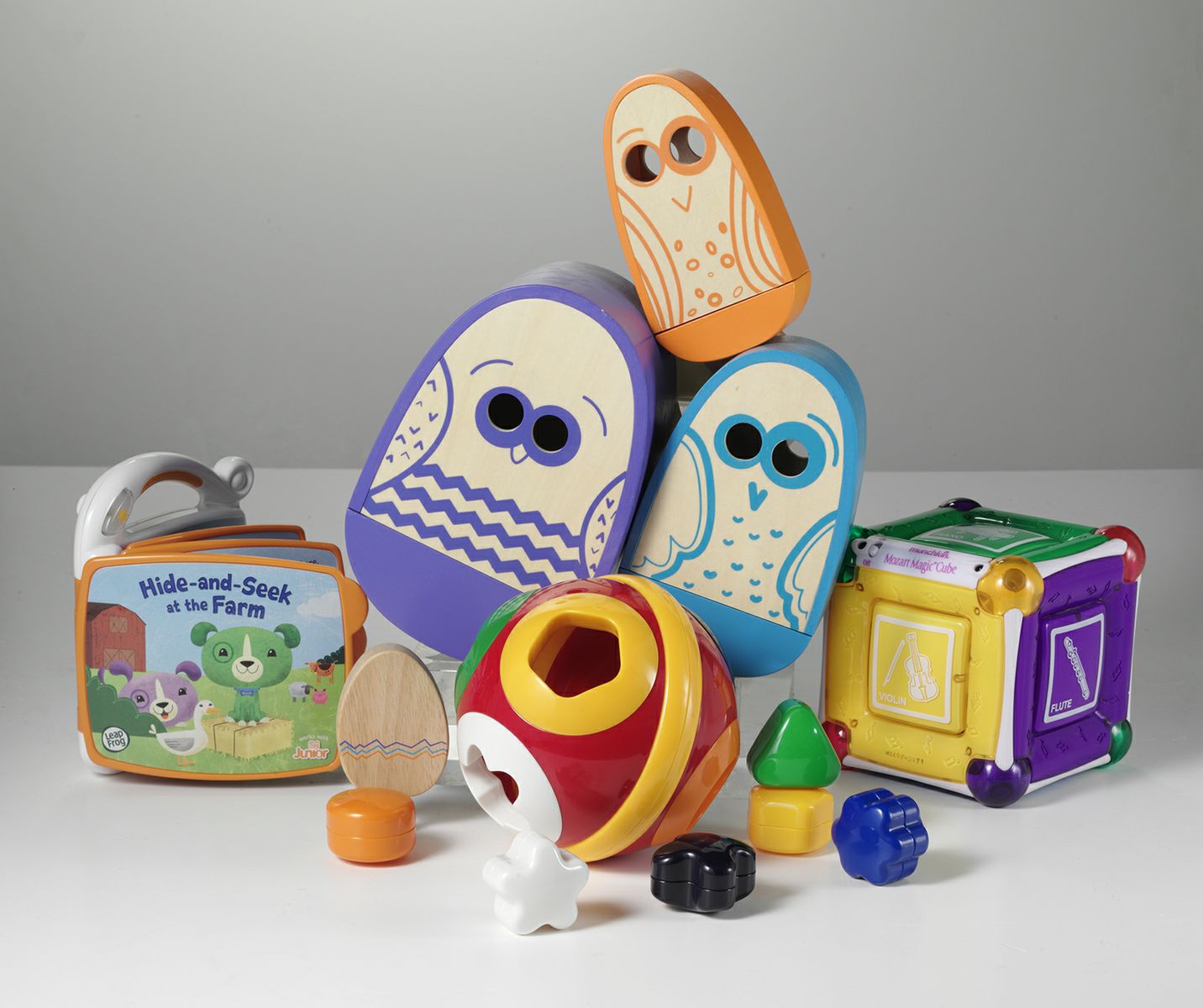 As a new mom-to-be one of the things I'm most nervous about is the prospect of kid clutter taking over our charming little Cape Cod-style house. After all, it was just the two of us for seven years and we've gotten quite used to having a clean and (mostly) clutter-free house. A home decorator at heart, I'm not exactly thrilled at the idea of having little kid toys scattered everywhere, especially since they outgrow them so quickly.
Luckily, I just found out about Spark Box Toys -- a toy rental service for kids ages 0-4.
How it works
Essentially, Spark Box Toys works just like Netflix. You get a monthly box of four unique educational toys tailored to your baby's current development level, along with instructions on how to use and ideas for playtime. After the four weeks are up, you simply send the box of toys back with prepaid shipping and a new box will come in the mail! How easy is that?
Does baby have a favorite?
Now, you might be thinking "But what if my baby falls in love with a toy and then I have to rip it out of her crying hands and mail it back?" -- a task no mom wants to undertake. Luckily, if your kiddo falls in love with an item in the box you can buy it at a significant discount from traditional retail prices and won't have to pry it from your little one's tiny fingers.
Fresh and clean
Now, because Spark Box Toys is a toy rental service, moms are going to want to know how the items are sanitized before their little angel receives the delivery.
Before shipping out each toy, the company examines and sanitizes each item using non-toxic cleaning wipes and a steam-cleaning machine. Toys are also wiped with an organic disinfectant and individually packaged so they stay fresh and clean until you receive them.
It doesn't hurt to have your own set of baby-friendly cleaning products on hand so you can sanitize toys at home too.
Pay it forward
One of the things I love best about this service is their commitment to social responsibility. In addition to having eco-conscious company practices, Spark Box Toys donates refurbished toys to inner city schools after they are done making the rotation in the toy rental program. A great way to provide developmental toys to urban youth and also keep old toys out of landfills.
Why we love it
Here are a few reasons why Spark Box Toys is on my current lust-list:
Can help you win the war against kid clutter
A fresh rotation of stimulating toys so baby (and you) are entertained
Innovative toys not currently carried in big box stores
Earth-friendly way to repurpose toys and eco-friendly vendors used
No long-term membership commitment (can try it out for 2 months)
Refurbished toys donated to urban schools
Makes a great baby shower gift
Come on, everyone loves getting a package in the mail!
For more information
Visit SparkBoxToys.com to learn the details and find out about pricing. Prices range from about $23/month to about $250-$300 for a year plan. You can also gift a subscription starting at $80 for four months.
More on baby products
Nursery essentials you and your baby will love
Coyuchi's Spring 2013 Organic Baby and Nursery Collection
Cloth diapers for the modern parent