Do You Parent Like A Celebrity?
Parenting can seem easy when you're a celebrity with limitless funds. But just because the stars have money, doesn't mean they always have 24/7 nannies to care for their babies. We love these real-life celebrity moms who prefer being in the parenting trenches.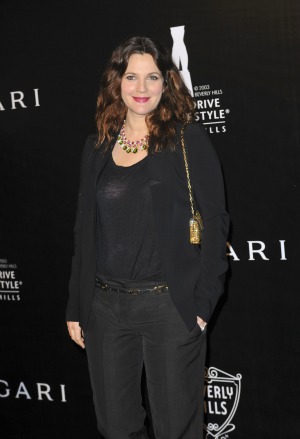 Drew Barrymore
New mom Drew Barrymore, who welcomed daughter Olive in September of last year, said in an article in the March issue of Harper's Bazaar that she is truly a stay-at-home mom now: "When my daughter was born, I thought to myself, How do I go past infinity with my efforts and care? I asked my mother-in-law questions. I psycho-stalked all of the nurses with so many questions. I asked every single question. I'm a real stay-at-home mom. I'm really hands-on. Everything else became secondary."
Jessica Alba
This down to earth momma doesn't hire a nanny to watch her kids when Jessica Alba's on-set or at her office at The Honest Company -- she brings her daughters Honor, 4, and Haven, 20 months, along! Jessica recently explained that her girls go with her to work. Earlier this year, she said, "I bring them with me. [Honor is usually] playing in the kids' corner and running amuck bothering everyone, throwing paper airplanes at their desks — but they love it!"
Jennifer Garner
This celebrity mom of three is constantly photographed picking her daughters Violet and Seraphina up from school and toting them to extracurricular activities like dance and karate. Jennifer Garner also the ultimate soccer mom. She does, however, admit that having a third child, son Samuel, put her "over the edge." This mom needed some help! On an episode of Conan after Samuel's birth in February 2012, she said, "I was going up to anyone on the street saying, Would you please come work at my house? Would you please come help me? Just take a child. Do something." We think she always looks like she has it together!
Anna Faris
An added benefit for Anna Faris not using a nanny after she welcomed her son Jack last August? Regaining her pre-baby figure. How so? Late last year at the premiere of Zero Dark Thirty, she told reporters how she lost her baby weight, saying, "I think it's from hauling around the little guy. I'm trying to do it without help. So it's been a lot of lifting."
Image credit: WENN
More on celebrity moms
Holly Madison's baby has a unique, colorful baby name
First Shakira baby pic: "Meet our baby boy Milan"
Kate Middleton's pregnancy gives England baby fever