Fun For Baby's First Easter
Baby may not fully comprehend the concept of the Easter Bunny yet, but his first Easter can still be special for the whole family!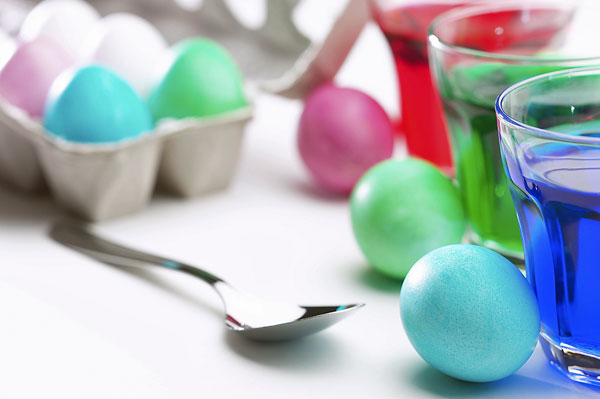 Take precious pictures
If baby is just a newborn, take pictures of her in nothing more than a giant white cottonball affixed to all-white bloomers or with a "bunny ears" headband on her head. If baby is a little older, dress him in his Easter finery, prop him up in a field of bright green grass with some colorful plastic Easter eggs tossed around him or let him cuddle with a baby chick stuffed animal and then snap away!
Of course, you can always take him to visit the Easter Bunny at the mall to capture the classic "Mom, get me away from this giant rabbit!" expression on his face. Even if you don't get a picture perfect photo, take lots of fun candid shots of all your Easter celebrations with baby this year!
Color eggs
Despite baby's age, you can color eggs for baby's first Easter. He can observe the fun process of coloring, and if he's a little older, you can assist him in dipping the eggs into the colored dye cups or helping him decorate them with stickers or glitter pens. Warning: Prepare for a mess so you don't freak out when the inevitable spilling of the Easter egg dye cups occurs.
Give baby a basket
Leave baby a basket from the Easter Bunny -- but forget tucking candy or tiny trinkets into plastic eggs. Stuff baby's basket with soft plush stuffed animals, rattles or teether rings or some spring clothes and shoes. See below for some more ideas about what to put in baby's first Easter basket.
Go on a hunt
Take baby to a local Easter egg hunt in your community (many churches host them the day before Easter) and help her hunt for eggs. Even if baby can't enjoy the treats within, the experience and memories will be totally worth it. (Don't forget to keep snapping those pictures.)
More on Easter with baby
7 Ideas for baby's Easter basket
Pretty in pink: 5 Easter dresses for baby girl
Safe Easter celebrations for baby