Authentic Down
To The Belly
If you're going to be a Kate Middleton lookalike, you might as well look pregnant too, right?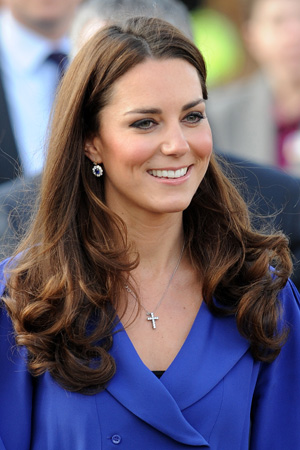 Heidi Agan's job is a pretty cool one -- she's a Kate Middleton lookalike, which she ditched her other job for after repeatedly being told she bears a strong resemblance to the pregnant Duchess. As Kate's belly is growing, Heidi has decided that she also needs to have a matching belly. Instead of going totally realistic by getting pregnant herself, she has instead invested in a series of baby bumps to wear under her clothing.
Fake baby bumps
It hasn't been revealed what style of fake bumps Heidi purchased, but even the simplest models can be convincing, and if she's wanting to match up with the British royal, she's probably on the right track. She has been known to purchase similar clothing as Kate, and the resemblance is quite uncanny.
If you're expecting a baby and have tried on clothes at any of the speciality maternity stores, you've likely seen an odd belly pillow for you to strap on to see what you might look like in seven or eight months -- useful if you're newly pregnant and have yet to do any serious belly growing of your own.
Maternity clothing issues
Even with the fake baby bump, it can almost be impossible to accurately determine what you will look like in your third trimester. I know that by the end of each of my pregnancies, my maternity clothing was no longer fitting well, which was ridiculous. I would just wear the same things over again, and I was so over it by the time each baby was born. I didn't gain a bunch of extra weight either -- around 30 pounds with my first, and less for each subsequent baby (I started off each pregnancy weighing more, so fortunately I gained less -- not on purpose, it just happened that way).
So I'm not sure what the answer is, because if you wear gigantic maternity clothes when your bump pops out, you feel and look kind of silly, but it seems like such a waste of money to buy clothes that you'll just wear for a few short months.
Tell us!
What clothing strategies do you use during your pregnancy? Share!
More on Kate Middleton's pregnancy
What are Kate Middleton's pregnancy cravings?
Kate Middleton's pregnancy gives England baby fever
Kate Middleton is pregnant, suffers from hyperemesis gravidarum
Image credit: Zak Hussein/WENN.com