"Enlightened" Treats
For Babies
As Founder and CEO of Happy Family, Shazi Visram is known for making innovative, organic food available to babies. The busy entrepreneur and mom-on-the-go spoke with SheKnows Pregnancy & Baby and chatted about organic eats, resources for moms, and the importance of giving back.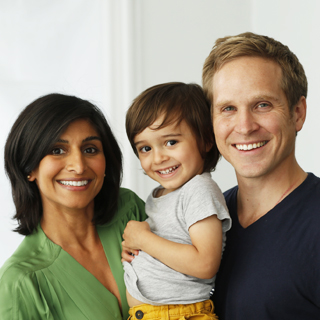 Shazi Visram is turning heads in the business world. In 2011 she received the title of Ernst & Young's Entrepreneur of the Year for New York and the company she founded, Happy Family, is getting attention as a notable organic food company.
Happy Family has grown from just 3 employees when it launched on Mother's Day in 2006 to 118 employees today. Of those employees, 77 are moms and dads who have 153 children combined.
Family is key in their company culture according to Visram who said, "It's our families that drive us to do the very best and inspire us to keep innovating for our collective health and happiness."
Learn why Happy Family is turning heads with their tasty organic baby food products.
Q&A with Shazi Visram, founder of Happy Family
SheKnows Pregnancy & Baby: What was your inspiration to start Happy Family?
SV: In 2003, I had a good friend who was a new mom, and I watched her struggle with the balance between being a good mom and being a successful professional.
Her biggest challenge was feeding time. She was health conscious and only wanted to give her baby fresh, organic produce, but she didn't always have time to make her own baby food, and the jarred options out there were overly processed and under-nourished. Listening to her, I had my "ah ha!" moment, and Happy Baby was born.
P&B: Did you start the company before you were a mom? If so, how has your view of the products changed after having your first child?
SV: I did start Happy Family before I was a mom, but I had so many friends who were new moms that I felt that I was on their team. I became obsessed with feeding the future of our country, making sure that all babies had the option to eat the very best. I didn't think it was possible to care anymore than I already did.
Then, I had Zane, and everything I had been doing for the past 7 years started feeling even more personal. Not only did I better understand the struggle of balancing your life with a baby –- time really is such a luxury –- but I was so happy to have Happy Family products to help ease that guilt when I didn't have time to puree my own fresh fruits and veggies. Zane, now 3, is still a huge fan of Happy Family treats.
P&B: Which treat is your son's favorite?
SV: Now that Zane is 3, he has graduated from the starting solids and simple combos, but he still loves all of our Happy Tot pouches. I think his favorite of the week is the Happy Tot Plus Kale, Apple & Mango variety, which is great for me because I know it has vitamins for his growing body. He can have as many as he wants!
P&B: Which is the one Happy Family product everyone should try?
SV: Our simple combo in the Happy Baby Spinach, Mango & Pear was one of the first purees I put together in my kitchen, and it is still a standout flavor.
Or, for toddlers, try it in the Happy Tot version to get extra omega-3s, calcium, antioxidants, iron and fiber from the super grain Salba, which we add.
P&B: Are the products just for babies and toddlers, or can parents munch on them too?
SV: Not only can parents munch on them, but we had so many parents call us and ask us to make baby food for grown-ups that we finally did launch a more adult line: Happy Squeeze. This line is formulated for a more adult palate with flavors like Pomegranate, Blueberry and Apple and is a great, healthy snack on-the-go.
P&B: You promote an enlightened nutrition philosophy. What does this mean, and how did you go about choosing the ingredients that made the enlightened list?
SV: Our enlightened nutrition philosophy can be summed up as "organic plus."  We always start with the best organic ingredients, but then we add extra nutrition to many of our products, like pre- and probiotics for digestive wellness, choline for brain development, DHA for brain and eye development, and Salba®, the world's most nutritious grain.
We have chosen these ingredients by working with pediatricians and registered dieticians to develop products that help address issues that pop up in some children's diets. Our enlightened approach to nutrition is one of the many things that differentiate our products from others in stores today.
P&B: Happy Family has a Happy Mama Network where real moms share tips. How can parents use this as a resource?
SV: Our Happy Mamas are truly at the heart of our business. They are moms in communities all over the country who are passionate about healthy eating and are well educated about our products. Parents can find a Happy Mama near them by going to our website, www.happyfamilybrands.com, and searching by their state. The site gives contact information for every Happy Mama on the team.
P&B: Giving back seems very important to you and the company. How does the company support Project Peanut Butter and the FEED Foundation?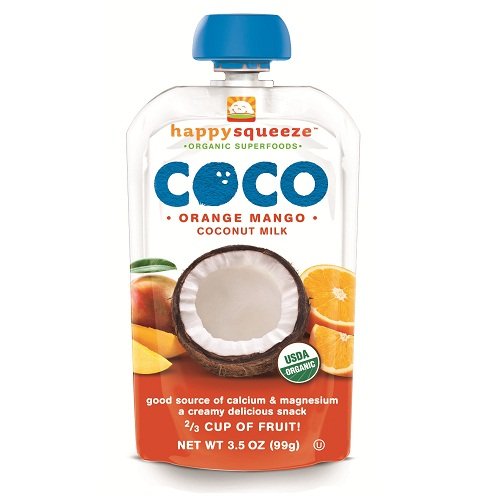 SV: When I started Happy Family, it was always my intention to create abundance and give back. It's been a cornerstone of the company from the very beginning. We partner with Project Peanut Butter and FEED by giving back a portion of our sales to each organization because we truly believe that every child deserves to be a happy child, and nutrition is key to that happiness.
Our take
We checked out a few Happy Family products for ourselves. One mom noted her son, who's been struggling with incorporating veggies in his diet, particularly liked the Homestyle Meal with carrot, sweet potato, and brown rice. The purple carrot and blueberry Happy Puffs and strawberry and carrot Happy Munchies were also favorites (even with adults). Moms also liked the taste of the Happy Squeeze orange mango coconut milk flavor for a snack on-the-go. The pouch packaging is super convenient to throw in the diaper bag.
More products to check out
Easter basket ideas for baby
Dapple products can green up your spring-cleaning routine
Prenatal DVDs you'll love