Baby's First Easter
Wondering what the Easter Bunny should bring baby? We've rounded up a few of our favorite picks to include in baby's first Easter basket.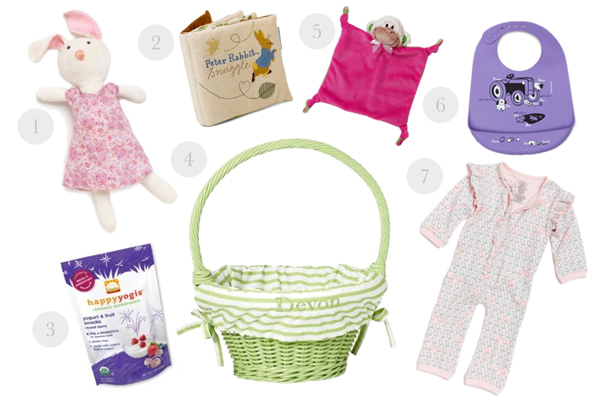 1. Baby needs a bunny
It's baby's first Easter so of course including her first bunny is a must. This charming Emma Rabbit stuffed animal (Fawn Shoppe, $40) was created by designer Jane Van Cleef of Hazel Village, who fashions the animal clothes in her Brooklyn workshop. Hazel Village stuffed animals are made from organic cotton and the animals can all share clothes with each other. How cool is that?
2. A classic tale
Add to baby's growing book collection with a classic children's Easter story. We especially like this Peter Rabbit Snuggle Book (Barnes & Noble, $15) which is made from soft flannel fabric and organic material
3. Something sweet
Since chocolate bunnies and jelly beans are off limits for baby, give her a special treat she'll find yummy, but is still nutritious. Include a bag of Mixed Berry Happy Yogis (Happy Family, $4, find stores). The yogurt drops melt in the mouth and the combination of strawberry, blackberry, and blueberry flavors makes for a good springtime treat.
4. A basket with staying power
Sure, an Easter basket is the star of the show during the Easter hunt, but rather than getting something that will end up in the trash or will clutter your basement storage for the next year, pick up a cute basket you can repurpose. This adorable Easter basket with a stripe liner (Pottery Barn Kids, $12) can be used as a basket to corral toys, as a diaper organizer or book storage. It also comes in pink and yellow.
5. A little friend
If baby is too young to play with big toys, consider a combination pacifier and plush toy. This monkey flatsie blanket from First Friends (Amazon, $15) comes with a detachable pacifier. The pacifier is BPA and phthalate free and the detachable blanket makes it easier to keep clean. The soft fabic and toy will keep baby entertained and we love the pink and green color combo for spring.
6. For Easter brunch
Your little peanut will look adorable in her first Easter outfit -- until she starts snacking at Easter brunch that is. Help her keep the mess off her pretty dress with this stylish bucket bib (Modern-twist, $20). The farm buddy design is perfect for this time of year and the durable food-grade silicone will keep flying bits of food from ruining her dress.
7. Get cozy chickadee
This Egg Baby Romper (Fawn Shoppe, $40) is so soft and scrumptious both you and baby will be itching to snuggle up for bedtime cuddles after a long day of Easter egg hunting. We adore the graphic teal and brown pattern of baby chicks, which gives a subtle contrast to the pink color. The ruffled sleeves and frill down the body adds an extra special touch. A zipper that runs from the top all the way down the bottom of the leg allows for easy diaper access.
More Easter fun for baby
5 Easter dresses for baby girl
30 Easter basket ideas for babies and toddlers
Safe Easter celebrations for baby