Becoming A (Techno) Mom
From helping you stay organized during pregnancy brain to preparing for baby, your iPad can become your go-to resource when preggo.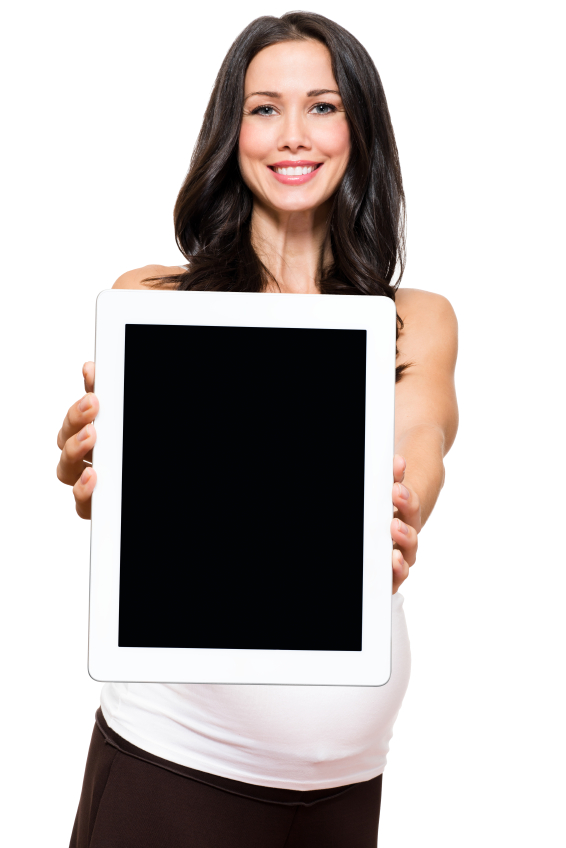 As a new-mom-to-be, I'm slightly addicted to my iPad. It's been an unexpected lifesaver to use during pregnancy. I use it for everything from saving notes from our birthing classes to staying entertained during fun nights of pregnancy insomnia.
Note: The iPad is my pregnancy BFF, but you can do most of these things with your favorite tablet computer of choice.
Here are 8 ways your iPad can help you survive pregnancy:
1. Organize handouts from parenting classes
We took a 10 week hypnobirthing class where our instructor emailed numerous handouts each week. Instead of spending time (and money) printing them all out, we saved each handout to our Dropbox app on the iPad, which syncs to our other devices. We were able to pull them up in class when needed and can access them from our iPad, phones and computers. My husband likes it because he knows he can access the handouts from the hospital when he needs a refresher on how to keep us calm during the final stages of labor and delivery.
2. Use notes to document quick parenting tips
As a new parent you're probably getting tons of advice and resource referrals from family and friends. Since the old noggin isn't working too well due to pregnancy brain, use Notes in your iPad to keep track of everything. Jot down day care and pediatrician referrals, mommy groups, and product recommendations for quick reference later.
3. Create a prenatal and birthing playlist
Download songs from iTunes that'll get you in zen mode. I have a playlist of all my guided meditations that I use to practice the hypnobirthing techniques as part of my regular prenatal routines. Many moms-to-be also choose to create a soundtrack of their favorite tunes they can play at the hospital during labor (some hospitals even have technology where you can hook your device up to a speaker).
4. Stay entertained during bouts of pregnancy insomnia
I suffer from a mad case of pregnancy insomnia and this is where the iPad has been a lifesaver for me. Pregnancy hormones regularly keep me from getting a full night of zzz's and if I'm wide awake then I'll get up and find something to do until I get sleepy again (3 a.m. is typically when my nesting instincts take over).
If I think there's a chance of falling back asleep soon then I'll stay in bed and use my iPad to watch an episode of The Ricky Gervais Show on HBO Go, watch live TV using the Time Warner Cable app, or catch up on my Netflix queue. I can stay in bed until I dose off again without waking my husband. Sure, experts recommend not using electronic devices when you're trying to sleep, but truthfully, sometimes a gal just wants to stay nice and cozy in bed.
If reading helps you sleep, download a book to your iPad instead. We recommend checking out Ready, Set, Baby!, a new e-book for parents-to-be.
5. Take a prenatal exercise class
On a budget? Don't have a prenatal exercise class near you? Pull up the YouTube app and search for prenatal exercise videos to find lessons you can do right at home. Currently on my favorite's list is Prenatal Yoga with Lara Dutta and 10 minute prenatal pilates.
6. Use calendar to keep track of prenatal appointments and parenting classes.
As you're gearing up for baby, you'll find your social calendar is quickly booking up only this time it's less about meeting the girls for happy hour and more baby CPR and learning how to swaddle. Keep all the appointments saved in your calendar so you have them in one place.
Got questions for your doctor? Use the note section under each event listing to track questions that come up throughout the month so that it's easy to access during your appointment.
7. Set a reminder
You'll find your to-do list will grow as your belly does. Picking a pediatrician, shopping for a crib, verifying insurance – stay on top of everything you need to do by saving a Reminder and due date. It will feel so good to cross it off your list when you've tackled the task.
8. There's an app for that
There are a ton of iPad and iPhone apps for pregnancy to help you track your symptoms and fetal development. My go-to pregnancy iPad app is currently What to Expect Pregnancy. I also use the Pinterest app to add favorite looks and products to my nursery inspiration board.
More pregnancy resources
4 Tips for enjoying work when pregnant
4 Stylish alternatives to hospital maternity gowns
Does baby need a nursery?