Do You Have A Say In Your Shower?
Few women will welcome a baby before they have their family and friends "shower" them with a party in preparation for baby. But some expectant moms start getting the sweats just thinking about those silly party games (inspecting a "dirty" diaper filled with what?!). Relax and handle your shower with ease.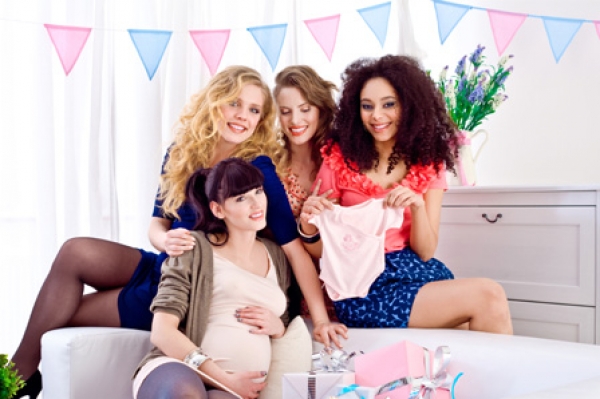 Choose the right host
Whether it's your mom, your best friend or an office colleague who wants to throw you a baby-to-be celebration, make sure said host knows you well enough to know that kind of shower you would want and what you definitely would not want.
Etiquette says...
Traditional etiquette suggests that the guest of honor should have little to do with the planning of the shower (aside from providing a guest list, perhaps). But if you are going to be very uncomfortable (like sweating in your seat kind of uncomfortable) with certain aspects of a baby shower -- such as those silly games where the guests sniff diapers stuffed with mashed up candy bars to try to decipher the type. ("I see nuts, is that a Snickers!?") -- find a way to hint to the host that you aren't much into party games.
Better yet? Relax a little! Yes, those games are ridiculous and a little gross. But chances are you and your girlfriends will be cracking up as you stick your noses into those "dirty diapers" at the party.
Gracious gift opening
If the thought of opening gifts in front of your guests makes you nervous, remember that many of the gifts you receive will come directly from your baby registry (we highly suggest doing one if you're nervous about shower gifts). I'll admit I received a few odd gifts at my baby shower -- a nursing cover that I thought was an apron (which quickly became my favorite mommy must-have once baby arrived!) and pee pee teepees come to mind immediately.
Don't let the pressure of a perfectly gracious response to each gift make you shy away from wanting a baby shower. If you get a gift that you don't expect (or understand), look to the gift-giver and offer a simple and sincere "Thank you." Remember that the guests at your shower are your loved ones who are thrilled to "shower" you and your baby-on-the-way with love. So just have fun and enjoy being the guest of honor!
More on baby showers
Should you have a baby shower for the second baby?
Baby shower etiquette and planning tips
10 Tips for a sensational baby shower