Ditch The Drab And Go For Fab
Not looking forward to wearing an ugly, old hospital gown during childbirth? We've rounded up a few cute alternatives so you can give birth in style.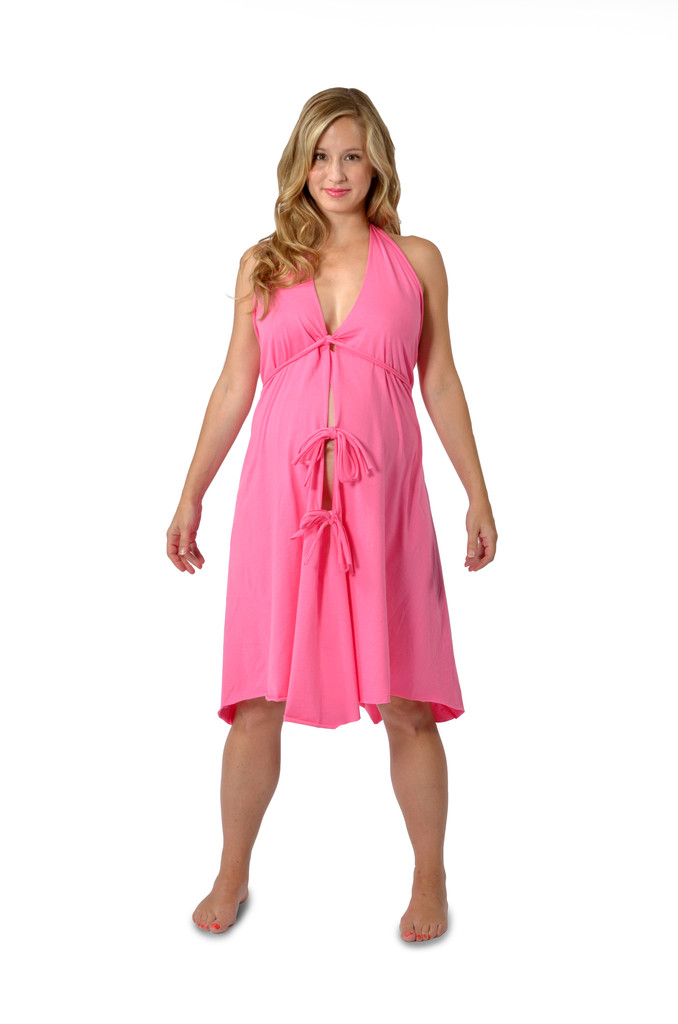 Some women don't mind using the standard-issue hospital gown that's available in the maternity ward. Others don't like the sterile gray color that can make one feel like they are having a big medical procedure rather than the natural biological act of giving birth.
It's your big day so why settle for a sterile, medical look when you can get something that you'll feel more comfortable in and, dare we say, will actually look forward to wearing?
Here are four pretty alternatives to hospital maternity gowns:
1. Pretty Pushers
A Pretty Pusher (pictured right) is a great alternative to a traditional hospital gown. There's a halter neck-tie for immediate skin-to-skin contact after birth, an opening in the front for fetal heart monitoring, and a low cut back for epidural access (if needed). The 100% cotton gown is also disposable so you don't have to mess with post-delivery cleanup. PrettyPushers.com, from $24
2. BINSI
The BINSI birth skirt allows for easy movement and you can easily bend, sit or walk it in – great for moms doing an un-medicated childbirth who want to walk around the room or sit on a birthing ball. The skirt can be used before, during, and after labor. BirthinBinsi.com, $35-$65
3. Dearjohnnies
If you're OK with the design of a hospital gown, but just want an alternative to the drab, old option available in the maternity ward, consider getting your own in a pretty print. Dearjohnnies are similar to traditional hospital gowns with a tie in the back, but come in a variety of colorful prints. Dearjohnnies.com, from $68
4. Etsy
Looking for a unique pattern or design? Try browsing the maternity gowns on Etsy. A variety of different styles are available and if you have a favorite pattern, fabric, or color in mind, you might be able to find a shop that will custom make one for you. We especially like this delivery gown by Etsy shop Silk and More since it can also do double-duty as a robe for those first few days home from the hospital. Etsy.com, prices vary
More maternity must-haves
Pamper the mom-to-be with a maternity essentials bag
5 Maternity pillows worth checking out
Product review: Bellybuds for prenatal music