Baby Boy Buble
Grammy winner Michael Buble and wife Luisana Lopilato announced they are expecting a baby boy!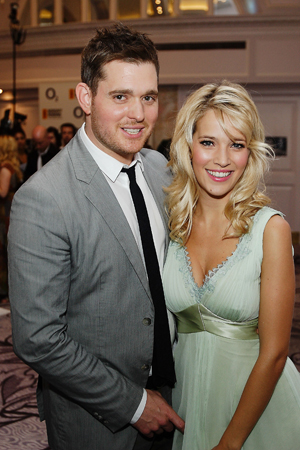 The talented Canadian singer and Argentine beauty, who are expecting their first child this summer, revealed to the New York Post's Page Six a son is on the way.
"We are so excited," the dad-to-be said. "We have just come from the home from the hospital and the sonogram was pretty clear, it's a boy! We are thrilled."
Buble's wife Luisana Lopilato, who is from Argentina, was excited to learn the news of their baby the same day Pope Francis, the first pope from Latin America and from her home country, was announced and thought it would bring them good luck.
"She said, 'It is a sign!"
But according to Buble, their son won't be the new pope's namesake.
"...[T]here's no way we are going to call him Frank," said Buble, "Even if it did work well for Frank Sinatra."
Although naming the baby Frank would've been a neat homage to the singer's classic inspiration and style icon, we're curious to see what names the couple will come up with.
EntertainmentWise reported Buble has been turning down some odd names Lopilato throws out.
"She will come to me and say 'I think Dirt is a good name'," said Buble.
Dirt? Oh my.
The happy couple, who've been married for two years, announced they were expecting earlier this year in an adorable video message to fans which included Buble's song "Haven't Met Uou."
"I've said to Luisana a million times i'd love to have kids," Buble told US Weekly. "But I always say to her when you're ready -- when you feel like you've lived and you've partied and done all the things you want to do. When you've worked your butt off, then tell me."
Someone might want to tell Buble that motherhood is one of the hardest jobs a woman will ever have. Wait, we're sure they'll figure that out when their baby boy arrives this August.
More celebrity baby news
Another Duggar baby is on the way
Holly Madison's baby as a unique, colorful baby name
Vanessa Lachey's battle with baby blues