Keep Up Your Pregnancy Workout At Home
Getting to the gym can seems like a daunting task when you're pregnant. Opt for a fun prenatal workout you can do in the privacy of your own home.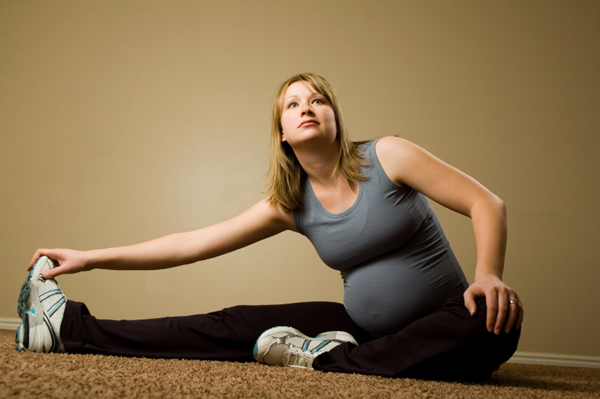 Denise Austin Fit & Firm Pregnancy
Denise Austin Fit & Firm Pregnancy (Amazon, $8) came out in 2006, but it's still super popular. Perhaps it's because Denise is ever encouraging and supportive throughout the entire DVD. The workouts are broken down into three 20-minute workouts, two designed for the first and second trimesters and the final one for the third trimester. Denise will make you feel good -- and look good -- through your pregnancy!
Yoga Booty Ballet Baby on the Way
Designed by fitness trainer Teigh McDonough when she was pregnant with her first child, Yoga Booty Ballet Baby on the Way (BeachBody.com, $20) was created specifically for expectant moms with gentle, effective techniques such as yoga and stretching.
Tracy Anderson: The Pregnancy Project
Celebrity trainer Tracy Anderson has whipped many a celebrity body into shape and in this series of nine DVDs (Tracy Anderson Method, $50), she shares her personal fitness expertise on each -- one for every month of the pregnancy. Tracy is pregnant in the series, which was taped in real time and replicates her effective Metamorphosis workout but modified for pregnant women, of course. In addition to exercises, the DVD series covers nutrition, interviews with doctors and leading news studies.
10-Minute Solution Prenatal Pilates
From the in-demand 10-Minute Solution series comes a Pilates series (Amazon, $8) designed for pregnant woman. The DVD includes five separate 10-minute workout sessions that you can do one at a time, in a customized fashion or all together for a complete workout. All the exercises are designed to be done throughout pregnancy and can be modified to suit your ability and comfort. The DVD includes a postnatal bonus designed to flatten your belly fast. Sounds good to us!
Remember to take extra caution when proceeding with any new workout during your pregnancy, even if it designed for expectant mothers. Check with your doctor before you try out any new workouts to be on the safe side.
More on exercise and pregnancy
Exercising with your baby
Stay motivated to work out during pregnancy
Exercise: The right heart rate