A New Mom Gets Real
Like most new moms, Vanessa Lachey was overjoyed at the birth of her son Camden last September. Then the baby blues set in and it rocked her world.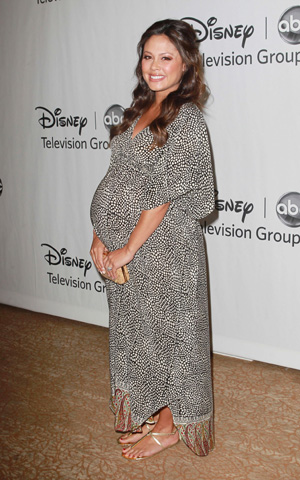 We tend to idolize celebrities and expect that they have different life experiences than the average Jane.
After all, new celebrity moms notoriously bounce back to their pre-pregnancy body like Megan Fox and Claire Danes did while the rest of us struggle to get out of our stretchy maternity pants, let alone mess with skinny jeans.
So it's refreshing when a celebrity shares what life's like behind the scenes and admit when they are struggling.
That's exactly what new mom Vanessa Lachey did when she opened up about her struggle with the baby blues on her website, vanessalachey.com.
The host of the popular ABC series "Wipeout" shared her heartfelt tale about the emotional ups and downs new moms may experience postpartum.
Vanessa wrote to other new moms to say, "you're not the only ones, and it's okay… there is a light at the end of the tunnel. You just have to get back to 'You' for a moment."
From peaceful bliss to hormonal mess
When Vanessa and husband Nicky Lachey welcomed their first baby boy to the world last September, the new parents were overjoyed.
"I looked over and saw Nick holding Camden in his perfect hospital swaddle, and I felt so at peace and right where I was supposed to be," Vanessa gushed. "I knew this was what I was meant to be: a Wife, and a Mother to these two amazing people. Nothing in the world was ever going to change that or take that away from me…"
Once her hormones settled in and she realized the new responsibilities motherhood presents, panic settled in the first time the mother and son didn't stick to a schedule.
"Tears were rolling down my checks. My hopes and dreams of being the perfect "natural" mother were shattered."
While she later learned the lesson "There is no perfect plan. Life just evolves," Vanessa still experienced the ranges of emotions that come with being a new mom.
Where was superwoman?
For her, the baby blues set in about two weeks after giving birth. She was sitting in her maternity clothes, un-showered with throw up on her shirt and hives on her body when:
"I started crying. I was feeding Camden and crying my eyes out. I felt like I had officially come undone. I imagined blissful days, tired nights, but quiet loving moments. I imagined family dinners with the 12 casseroles I prepared ahead of time, and a beautiful post-pregnancy glow that embodied me 24-7. But this was none of that. I didn't feel like myself. Where was the super woman who always thought and knew she could do it all? Where was the organized Vanessa who had it all under control no matter what the obstacle? She was gone, and I thought... forever."
"Me" time is a must
Vanessa decided to take a time-out for herself and was able to get a better perspective of the situation. She reminded herself it's OK to not have the perfect post-pregnancy experience and that "hormones have a mind of their own."
She says "me" time is a must for new moms.
"I hope you realize it's important to take time for you, and never lose track of yourself. YOU are what makes this life beautiful and unique. Don't lose the Me in life…"
Read Vanessa's full experience with baby blues on vanessalachey.com.
More about the baby blues
When the baby blues strike
Fight postpartum blues with food
Do you have postpartum depression?
Photo: WENN