Find More Time
In Your Day
There are just some truths about motherhood that you can't escape – sleepless nights, spit-up on your black outfit (or a blow-out on your white pants!) and little time to dedicate to anything or anyone besides baby for the first few months of his life. But with some time-saving smarts, you can manage your time and even steal some moments for yourself!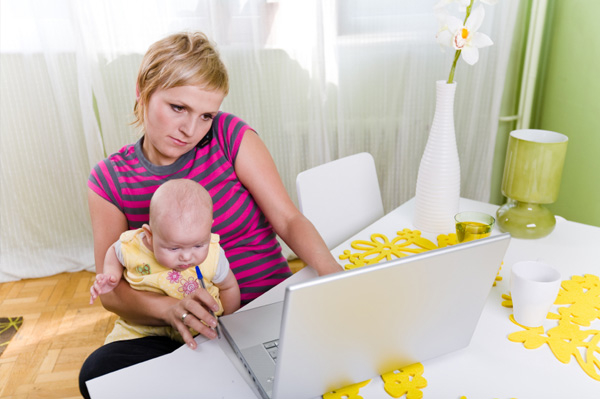 Don't nap while baby naps
Many people may tell you to nap when baby naps, but we'll advise you otherwise! Use the quiet time while baby is napping to call a friend while you throw in a load of laundry or hand-wash baby bottles.
It's important for new moms to maintain the connection with the friends in their pre-baby life. And when you're inundated with washing poop out of tiny onesies, there's nothing like laughing (sometimes through tears) about it with your best friend.
Pre-pack the diaper bag
If you take baby to day care or a nanny before you head to work, pack her diaper bag for the following day the night before. Keep perishables like her milk/bottles and baby food in the fridge until it's time to go, of course. Other than that, pack the bag with extra diapers, wipes, change of clothes, pacis, favorite toys, etc.
Run your errands solo
If you can swing it, get a sitter for baby while you handle your groceries, go on a Target run and do your other errands. You'll get a lot more done in a shorter amount of time than if you tote baby along.
Help baby learn to play independently
For the first few months of both my babies lives, I held them and/or entertained them constantly -- while trying to make dinner, vacuuming the house, you name it. I felt guilty if I did anything that didn't have everything to do with them. Needless to say I got very little done and my babies learned to rely on me for... well, everything. Not to say I'd do anything differently if I had it to do again.
But I do advise other new moms to help their babies play independently by putting them in a swing, under a floor gym mobile or on their stomachs with some soft toys for that all-important tummy time.
During this time, you can still be in the same room interacting with baby while you fold clothes, pay bills online or do some things for you like catching up on a book or watching your favorite show.
Make your time with baby count
When you are spending time with baby, put the phone down, save the laundry for later and close down the computer. Make sure you are present and enjoying these sweet moments with baby and not becoming consumed with trying to manage it all at once. Believe me, it's not possible! It's better to focus on one thing at a time -- with baby at the top of your list.
More on new moms
Time management tips for new moms
Your postpartum life (Things we'll tell you that no one else will)
Create little moments of mommy me time