Scared To Be A Dad
Most moms tend to have a natural way with babies... especially since they have nine months to bond with the baby before he actually arrives. Dads don't get quite that same experience -- and thus may get cold feet before becoming a father. Help your man prepare for fatherhood.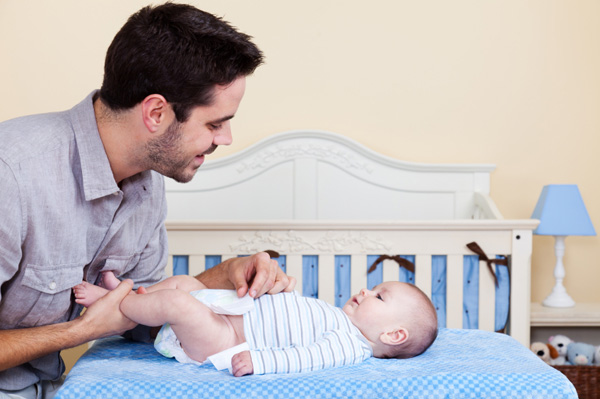 Invite him into your world
You get to feel your baby move and kick all day... but your partner doesn't get to experience that from your perspective. However, he can get involved. When baby starts moving and kicking, tell your man what it feels like. Sit down together and put his hand on your belly where you feel baby's movements.
Share with him other experiences of the pregnancy -- the good, bad and ugly -- to help him relate to your journey and feel a part of it, too.
Daddy 101
With his permission, sign your man up for a "Daddy 101" class at the hospital where you plan to deliver that can offer baby basics for new dads. If he's against doing a formal class, practice baby basics at home with a babydoll or ask a mom friend if you can babysit so you can help him get comfortable with being around a newborn.
Read aloud
Instead of reading the baby books on your own, read excerpts of your favorite baby books aloud together. One of my favorite parts of my pregnancies was reading up on baby's weekly update -- his size and developments for that particular point in the pregnancy. It also helped my husband visualize his baby on the way.
Take a birthing class together
A birthing or Lamaze class is a great way for you and your partner to bond over baby-on-the-way and to help him feel more comfortable in his role. Knowing that you're counting on him for support and coaching during labor and delivery will give him an all-important role in the process -- something he may really be looking forward to as a way to get involved.
Talk it out
If you notice he seems withdrawn, anxious or agitated when the conversation turns to talking about the baby, call him on it -- in a nice way. Ask him to share his feelings with you and find out how you can help him work through his concerns and fears.
If he doesn't feel he can talk to you about it, encourage him to talk to his guy friends -- especially the ones who are already dads themselves.
More on dad and baby
8 Ways for dads to bond with baby
5 Bottle feeding tips for dads
Dadchelor Party: The man shower for your baby daddy