Couple's Night In
When you welcome a new baby, you'll be consumed with this new bundle of love. But don't let that kill the romance between you and your partner. Spend some one-on-one time with your main squeeze without calling the sitter.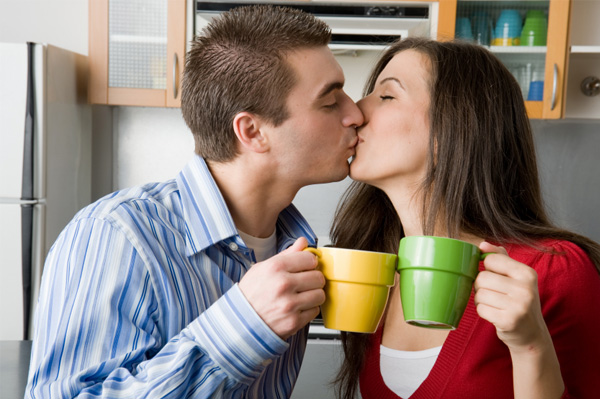 Bond over breakfast
If you don't have time for a full date night in, put baby in the swing in the morning while you and the Hubs have a cup of coffee together and talk about your day ahead.
Rent a movie
Skip the crowded theater and over-priced movie-time snacks and have a movie night in with your honey once baby goes down for the night. Swap out popcorn and soda for dark chocolate covered almonds and wine for a romantic spin on this simple night in.
Play games
Whether you prefer Scrabble and Trivial Pursuit or bowling on the XBox, get gamey with your man. Doing something interactive together will help you bond in a fun way.
Get cooking
You may have noticed that mealtime at your home has become a bit more chaotic since welcoming kids. It tends to become more of a challenge to see what you can get your baby to eat versus enjoying the meal itself. Save your appetite until baby goes to bed -- then get in the kitchen together and whip up something delicious. Don't forget to use the fancy China and eat via candlelight!
Game time
If you and your man bond over sporting events, put on a big game, serve up pizza, wings, chips and beer and cheer on your favorite team together. Just remember not to cheer too loud -- you don't want to accidentally wake the baby!
Ban baby talk
There are really no limits to the fun, romantic and silly date nights you can have at home without ever leaving baby behind with the sitter. However we challenge you to try not to consume your night with baby talk. Yes, we know your new baby is the light of your life, but it is important to make one another feel important as people and not just parents.
Go out for date night
As you get comfortable with your new role as parents, it's tough to want to leave your baby with a sitter. However as the baby gets older, we encourage you to get someone to watch your little one every now and then so you and your partner can truly have some alone time without worrying that your baby will wake up and interrupt your special time together.
More on couple time
Springtime babymoon fun
The marriage pact
5 Ways to prepare your marriage for baby