Getting Busy After Birth
Most practitioners recommend holding off on having sex for at least 4-6 weeks after giving birth. A new study shows that women are waiting even longer for a roll in the hay.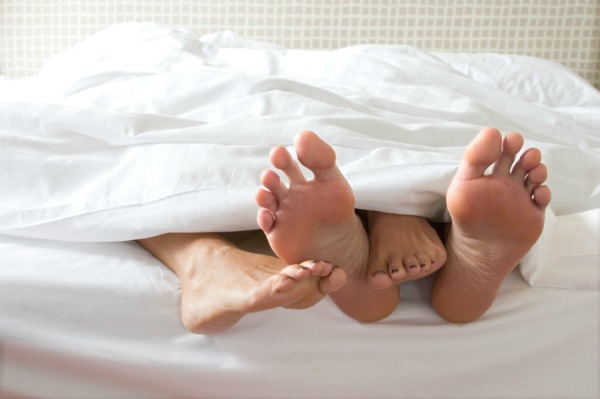 Knowing when is the right time to get intimate again after having your first baby can be tricky for first-time moms. Some women might feel pressure to jump in the sack after their sex life has taken a hiatus during pregnancy. Others can't wait to get busy.
Sex after childbirth
In a recent Valentine's Day episode of Modern Family, hot mama Gloria and husband Jay were depicted as anxiously waiting for their 6-week grace period to expire so they can resume bedroom activity.
The reality is most first-time moms will wait longer than 6 weeks after childbirth to resume having vaginal sex, a study finds.
Researchers also found that women who had a caesarean section, a birth assisted with forceps, perineal tear, or episiotomies appear to wait even longer.
Since researchers say that only about 10 percent of women having their first baby will have a vaginal birth with an intact perineum, it's reasonable to expect a delay in resuming vaginal sex after giving birth.
Study findings
The study conducted by the Murdoch Childrens Research Institute in Australia and published in BJOG: An International Journal of Obstetrics and Gynaecology, collected data from more than 1,500 women who were given questionnaires early in pregnancy and at 3, 6, and 12 months postpartum.
Results showed that 41 percent of new moms attempted vaginal sex by 6 weeks after giving birth, 65 percent by 8 weeks, and 78 percent by 12 weeks. By 6 months postpartum the rates increased to 94 percent.
Women aged 30-34 years were less likely to resume vaginal sex by 6 weeks after giving birth compared with women aged 18-24 years: 40 percent compared with 63 percent.
Note these findings are specific to vaginal sex. The study found that other sexual activities typically began earlier.
May help reduce feelings of guilt
In a news release issued by BJOG, Associate Professor Stephanie Brown from the Murdoch Childrens Research institute and lead study author said, "The most important finding from the study is the wide time interval over which couples resume sex after childbirth. Most couples do not resume sex until after 6-8 weeks postpartum, and many delay much longer than this."
"This is useful information for couples to know before their baby is born, and may help reduce feelings of anxiety and guilt about not resuming sexual activity sooner," she said.
More pregnancy and baby news
Food allergy risks rise with too much vitamin D during pregnancy
Breastfeeding laws in Missouri looking to change
New study reveals that women are afraid to breastfeed in public