Yum, Yum!
Baby's first introductions to table food are fairly bland (hello, rice cereal and oatmeal). But once you get past those early intros, make flavorful fruit and veggie combinations your baby will love!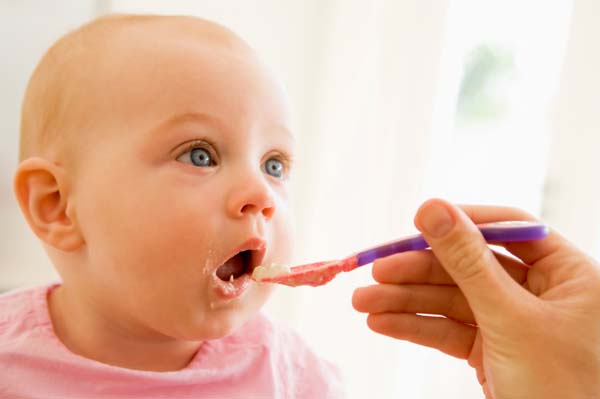 Follow your pediatrician's rules
Before you start blending up a storm, check with your pediatrician's baby food guidelines to ensure that you're following the proper way to introduce baby's first foods.
Cereal
Make baby's rice or bran cereal and oatmeal a bit more temping by adding some applesauce or pureed pumpkin, pear or blueberries.
Fun fruit combos
When mixing first fruits, remember that babies usually love most fruits -- and may prefer them to veggies. So you can also mix in a small amount of vegetables if baby has a hard time swallowing his veggies but slurps up his fruit. Give these a try:
Banana and blueberries
Apple and pear
Apple and sweet potato
Pumpkin and banana
If baby is old enough, add a little bit of yogurt to some of his dishes for a creamy element. Vanilla is great for fruit combos (just like your favorite breakfast smoothie!) while plain is ideal for mixing up vegetable combinations and even meat purees.
Yummy veggie combos
Vegetables can to be a tougher sell for babies. But if you mix up the right combinations, you can raise a mini veggie lover right from the start!
Avocado and potato
Avocado and banana
Sweet potato and summer squash
Potato and carrot
Green bean and potato
Cauliflower and yam
The plain yogurt added to any of these, particularly the potato combinations, will add a smooth and rich taste.
Tips for trying
When you are experimenting with your baby's food, follow these tips:
Don't get discouraged if baby hates a new flavor combination. It takes multiple tries for a baby or young child to acclimate to a new taste.
Use his favorite foods as a base and add in small amounts of a new flavor.
Mix bland with something more flavorful -- such as white potatoes with zucchini.
Make sure seeds have been removed and large and or hard chunks have been removed from food if you are making it yourself.
Ask around -- other moms are a great resource! Ask how they mix up their child's baby food choices.
More on baby food
First foods for baby
When baby doesn't like solid food
The basics of introducing solid foods