The MELT Method For
New Mamas
There's a new technique that might help provide relief for pregnant women and new moms recovering from birth. Learn about the MELT Method and how it can help with pain and discomfort.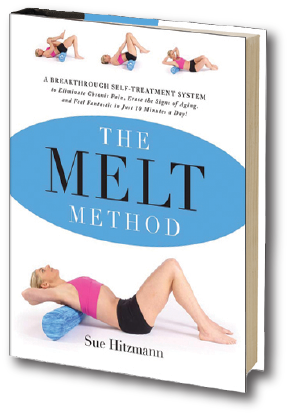 The MELT Method is a self-treatment technique that therapist Sue Hitzmann uses to reduce pain and stress. Her book has easy-to-learn, hands-on techniques that you are able to do in the privacy of your own home –- a bonus for new moms when it can sometimes be a struggle to wash your hair everyday, let alone make it over to the gym.
The method uses a soft body roller and small balls to help your body release tension and pain. The program also claims to help other pesky ailments that pregnant women and new moms suffer from including joint compression, posture, digestion, sleep problems, stress and anxiety (you know, the feeling that causes knots in your stomach now that you're thinking about having to care for another human being).
The best part about the MELT Method?
It only takes 10 minutes a day to do –- a totally doable time commitment for busy women on the go.
How "MELTing" can help you...
During pregnancy:
Reduce symptoms of heartburn, constipation, and acid reflux
Reduce hand and foot swelling
Provide a more restful night's sleep by supporting your sleep cycle
Support your body's changing shape
Reduce neck and low back pain
Postpartum:
Support realignment and restoration of pelvic stability and positioning
Restore organ placement and good function, including digestive and elimination processes
Support natural weight loss
Reduce neck and shoulder strain from breastfeeding and holding a baby
Improve the quality of unavoidable shortened sleep hours
MELTing also claims to help new moms shed excess body fat and minimize cellulite. Hey, if it'll help you get back into your pre-pregnancy skinny jeans, it's worth a shot, right?
More on pregnancy fitness
Cold weather exercises for pregnant ladies
Yoga and your pregnancy
Want a fit pregnancy? Try Prenatal Dance