Scared To Nurse?
Breastfeeding is one of the most natural and wonderful things you can do for your baby. So what is causing women to shy away from it?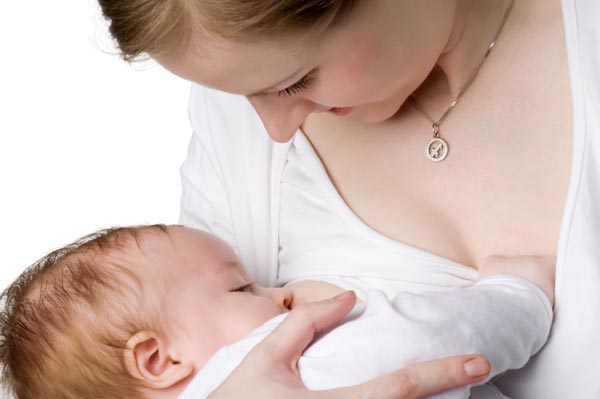 The stats
The recently released 2012 Lansinoh Breastfeeding Study reveals that while 79 percent of moms know breastfeeding is the best choice for a healthy baby, an astounding 40 percent say their biggest fear pertaining to breastfeeding is nursing in public.
The survey, which was completed in 2012 and includes responses from almost 5,000 breastfeeding moms in the U.S., the U.K., Germany and Turkey, showed other concerns included fear it would hurt, fear that baby wouldn't latch and fear that they would not be able to breastfeed long enough.
Moms judging moms
While nursing in public is a hot-button topic these days, it's not just men or women without children that disapprove of breastfeeding in public. The study reveals that one-third of moms actually believe "that women who breastfeed in public are attention seeking or that it is embarrassing or even wrong."
Gina Ciagne, CLC and senior director, professional relations at Lansinoh says, "As our survey reveals, moms know that breastfeeding is the best thing for their baby, but fear the reaction they will get if they choose to do so in public."
Regional realities
The study also shows that women in different parts of the country feel very differently about nursing in public. Women in the Midwest (43 percent) are the most likely to feel uncomfortable with breastfeeding in public, with Southern moms (39 percent) coming in at a close second, whereas 51 percent of women on the West Coast believe that nursing in public is perfectly natural.
And women in the U.S. are most likely as a whole (40 percent) to be uncomfortable nursing in public than women in the U.K. (38 percent), Germany (28 percent) and Turkey (11 percent).
Age factors in
Older moms tend to fear nursing in public more than younger moms, according to the study. Only 33 percent of moms 18 to 25 were concerned about breastfeeding in public versus 42 percent of moms 36 to 45 and 41 percent of moms 46 and older.
More on breastfeeding
Your period and breastfeeding

5 Ways to avoid nipple soreness while breastfeeding
Tips for exclusively breastfeeding