Diapers For Beer
Over the past few years "Dadchelor Parties" have been growing in popularity for new dads. We got the 411 on this hot trend from expert Robert Nickell, the inventor of DaddyScrubs.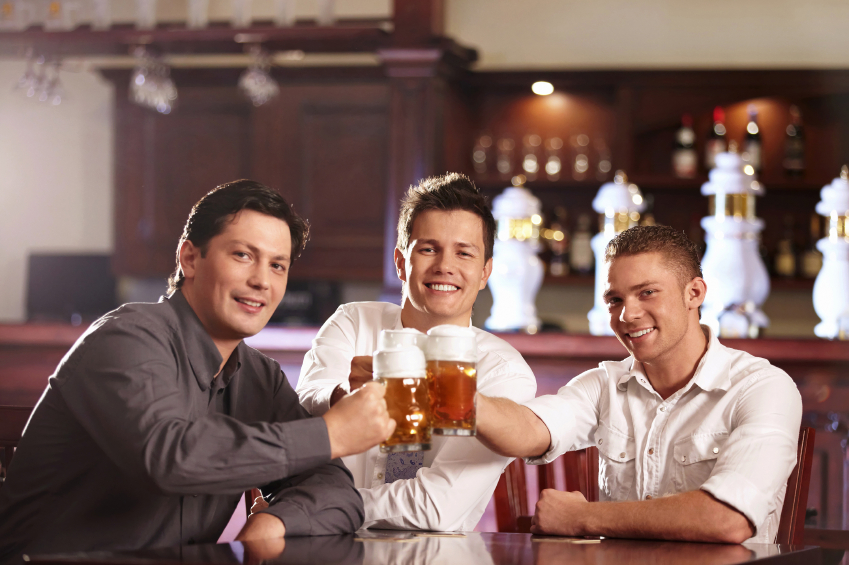 As a father of six and founder of DaddyScrubs, products made specifically for the daddy-to-be, Robert Nickell is familiar with what it takes to pamper new dads and give them some of the attention they deserve during the pregnancy process.
According to Robert, new parents today want a strong family unit that stays together and co-parenting is becoming increasingly popular. Women traditionally get all the attention during the nine months of pregnancy, but one way to involve new dads-to-be is to throw a "Dadchelor Party," the guy equivalent of a baby shower, to help welcome the transition to fatherhood. Learn what having a daddy bash is all about.
Dadchelor Party Q&A
SheKnows Pregnancy & Baby: What is a "Dadchelor party"?
Robert Nickell: A Dadchelor Party is an event for the new dad or experienced dad to go out with his guy friends and have guy time one last day before he has to shut down with the family during what is commonly known as the fourth trimester. Once the new baby comes, the whole family needs to go into hibernation while they adjust to sleeping, life with the new baby, and the baby gets beyond those critical first 90 days.
During this time, and usually a month before the baby comes, dad will not have time to see his guys, go golfing, go to a game, and even go out as couples. Thus the Dadchelor Party so the other guys (either dads, or single guys), can give their congratulations, advice, and understand that they will not see their friend for the next four months.
P&B: Are there other names for this type of dad bash?
RN: Other names that have been thrown out there are Man Shower, Dadelor Party, Daddy Moon, but the favorite seems to be Dadchelor Party.
P&B: How does this help dad celebrate (or prepare) for the birth of his child?
RN: This is very helpful to the new dad, as hopefully there are some experienced dads there that can give some advice on how to help, what to say, and what to expect.
Experienced dads can give a mini "Daddy Boot Camp" session for the new dad. It is an eye-opening moment of realization whereby the new dad can comprehend that "life is really going to change" forever. [For the new dad] it is a way to say thanks for the support for the upcoming new baby.
P&B: Why do you think these types of parties for dads are getting more popular?
RN: Over the last 3 decades, more and more dads are becoming involved in the birthing experience, this along with the fact that nowadays it is "OK" for dad to hold a newborn, change a diaper, and give a bottle, it just naturally makes sense that if it is a tradition to have a baby shower for mommy, why not also a Dadchelor Party for the daddy?
P&B: What are some fun ways the boys can celebrate for a daddy day?
RN: I highly recommend guy activities such as fishing, golfing, skeet shooting, bowling, and a good old-fashioned game of Texas hold'em. Normally, the silly games are not played at a Dadchelor Party, but would be more fitting for a Couples Shower. The Dadchelor Party is for the dad to bond, say farewells, get advice, maybe get picked on a little, and know who your friends are. The celebration should be whatever it is that the Dad and his group of friends can bond and have a good time.
P&B: What's the gift-giving etiquette for a Dadchelor party? Any suggestions?
RN: The most common gift so far is diapers, or "Diapers for Beer." Diapers are expensive and it is a whole new cost and budget expense that needs to be worked out over the next three years. Other than diapers, I would say high-end liquor and wine.
However the best gift to give, and it takes a little organization, is to come prepared with a calendar and all the guys pick a night to either drop off food or have something delivered. Having fresh food during the first two weeks of a new baby is like having a cool cup of water in the middle of the desert.
More on baby showers
Party time: Fun baby shower games to play
Where to register for your baby shower
4 Arrested during baby shower brawl