A Day Of Love
The scent of your favorite flowers now make you gag, you can't indulge in your favorite bottle of wine during a romantic dinner and the last thing you feel like doing is throwing on some sexy lingerie over your expanding belly. What's a pregnant gal to do on Valentine's Day?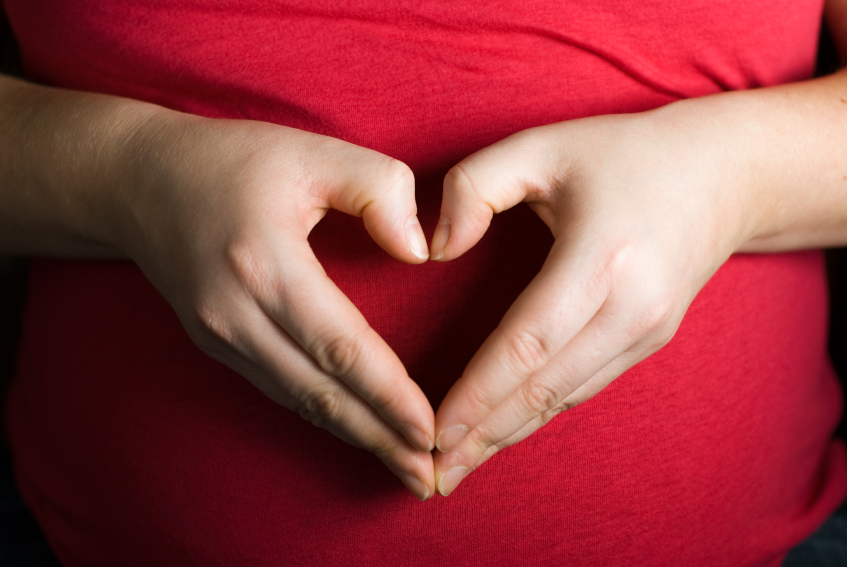 Pregnancy fatigue might have you wanting a nap more than a hot date, but once your little one is born all of your time and attention will be spent on her. If you're pregnant during Valentine's Day, put your own spin on Cupid's holiday when celebrating with your sweetie. Who knows? It might be the last romantic night you guys have for awhile.
Here are 5 ideas for celebrating Valentine's Day:
Get all fancy
Take advantage of not having the extra cost of hiring a babysitter and ask your man to splurge on that fancy restaurant you've always wanted to try. Since you won't be having any wine with your steak, indulge your sweet tooth and get an extra dessert. Sure, dining at a fine restaurant is a pretty traditional way to celebrate V-Day, but it'll be extra special this year since you likely won't have much more alone time together soon.
Join the breakfast club
Does pregnancy fatigue have you wanting to count sheep as soon as you get off work? Instead of going out to dinner try having a breakfast date at your favorite pancake house or brunch spot. You'll still create a special memory and you guys won't have to mess with the crazy Valentine's Day dinner rush.
Have a spa day baby
If your hubby wants to treat you to something special, drop some hints about that spa that specializes in prenatal massages. You'll love the extra TLC on your aching body. On a budget? Create your own spa environment at home by dimming the lights, lighting a few candles (unscented if you are still sensitive to smells) and having massage oil on hand. Take turns giving each other a relaxing rub which might get you in the mood for more physical activity.
Request your push present
If you've been eyeing a special piece of jewelry, now's a great time to ask your guy to get it for you. Not only will it meets that standards of a classic Valentine's gift, you can also make the argument that it can double as your push present as a little extra justification for why you need that sparkly bauble.
Get hot and heavy (or just cozy)
If pregnancy hormones are getting you in the mood for some lovin' then by all means break out your favorite valentine's lingerie and have fun! If getting physical is the last thing your sore, stretching body wants, then let your guy know early on and think of alternative ways you can be intimate together, say by cuddling in front of the fireplace.
More on Valentine's Day
Valentine's Day gift guide for the mom-to-be
Adorable baby outfits for Valentine's Day
The perfect outfit for your little sweetheart