UK Woman Breaks Leg, Then Delivers Baby
Talk about a tough break! A woman in the UK had to deliver her child with a broken leg.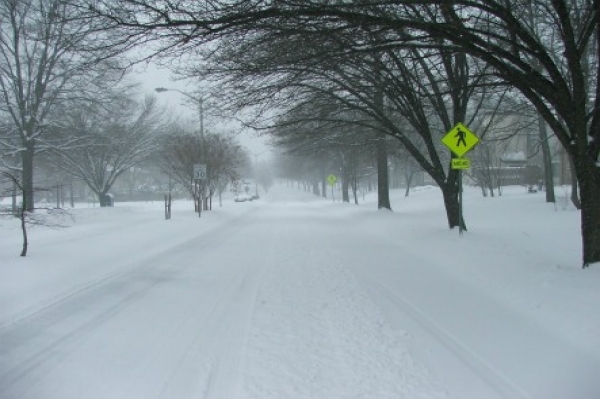 Late last month expectant mom Emma Ramsay, 32, from Menstrie, Clackmannanshire in Scotland, slipped on black ice outside her home and bravely crawled inside to call for help.
She was rushed into emergency surgery -- doctors told her she had broken both sides of her left ankle and her leg and would need surgery to insert pins and a plate. However, she then had to be rushed to maternity when it was discovered that she was dilated 5cm and was going into labor!
She told the UK's Mirror, "I was sore but I didn't really feel contractions at that point. I think the pain in my leg was bigger at first. Doctors said they couldn't operate on my leg -- I'd have to have my baby first."
Emma said doctors gave her a drip to speed labor but the pain was excruciating: "I'd get a contraction and take gas and air -- but then I'd be hit by the pain in my leg."
Because the baby was stuck in a posterior face-down position, Emma had to have an emergency c-section. Baby Blake was born at 5:55 a.m. on Sunday, January 27 -- just 20 hours after Emma fell outside her home.
The irony?
Just days before she slipped and fell, she had gone into the hospital thinking that she was in labor. However, it was just false labor so she was sent home.
Emma said, "I thought my labour might have started but when I left hospital one of the ladies said, 'Watch you don't break a leg when you leave -- it's icy out there.'"
Ouch.
Emma is doing well now. She had to return to the hospital after delivering Blake to have her leg properly pinned and set. She said, "I can laugh about it now. I'm just relieved my baby was okay. Everyone at the hospital was amazing -- I'm so grateful. I'm sure Blake will be sick of us telling him the story when he's older."
She added, "Looking back I can't believe I managed to get up and down the stairs with a broken leg and in labour -- but I think my maternal instinct kicked in."
Can you imagine having to give birth with a broken leg?
More on labor
Is it false labor?
Braxton Hicks vs. real labor contractions
Pre-labor, false labor and Braxton Hicks contractions