Issue Revolves Around LATCH Anchors
If you have a child in a car seat, heads up -- the rules are going to change in early 2014. Make sure you're up on the latest with this update.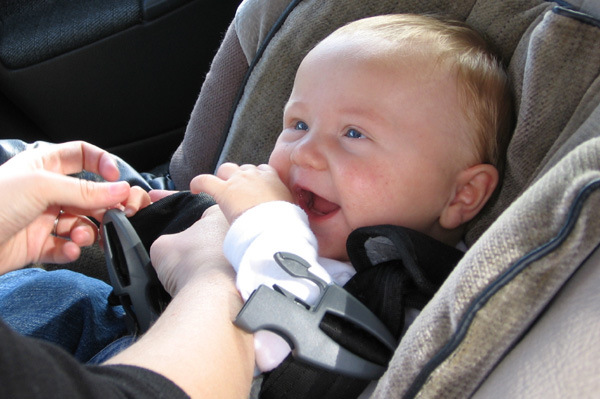 Car seat users, take note: In the early part of 2014, car seat manufacturers will be required to warn parents to not use the LATCH anchors if the combined weight of their child and the car seat meets or exceeds 65 pounds.
The LATCH system
You are probably familiar with the LATCH system -- Lower Anchors and Tethers for Children. Starting in 2001, all automobile makers were required to include the system in all vehicles going forward. Your car seat comes with very sturdy clips that attach to these anchors that are snug in the seat, making installation a snap, literally.
In 2001, however, it was not common practice to keep children in car seats as long as it's recommended to today, so the concern is that the lower anchors are simply not capable of bearing the weight (65+ pounds) in case of an accident.
"While LATCH makes it easier to properly install car seats in vehicles, it's important for parents and caregivers to know that securing a child seat with a seat belt is equally as safe — and that they have the flexibility to use either system," says Transportation Department spokeswoman Lynda Tran.
How things have changed
Technology and knowledge has changed so much since I had my first baby in 1995. There was no LATCH system and if there were car seat bases, they were not widespread at all. My baby was belted in (in his car seat) like the rest of the occupants, with a seat belt lock to keep it from moving. Our first two kids, in fact, were born before 2001, and our third baby, born in 2002, rode in the exact same method -- no car seat base and no LATCH.
In fact, when our fourth was born in 2009, I had to convince my husband that a car seat base and the LATCH system was the most common way to transport and secure an infant if you used a bucket car seat.
Even though it really doesn't seem that long ago to me, 2001 was 12 years ago -- so much has changed, and so much knowledge has been gained. It doesn't surprise me that vehicle modifications that were made before rear facing until at least two years of age became the norm and before kids were in car seats longer than ever before are totally out of date and potentially unsafe if your child's weight (plus the weight of the car seat) exceeds 65 pounds.
More on safety
Car seat mistakes you are probably making
Must-have car seat accessories
Bundle up, but not in the car seat