A Picture With Papa Piqué
Global icon Shakira and soccer star boyfriend Gerard Piqué debuted their sweet baby boy Milan to the world via Twitter.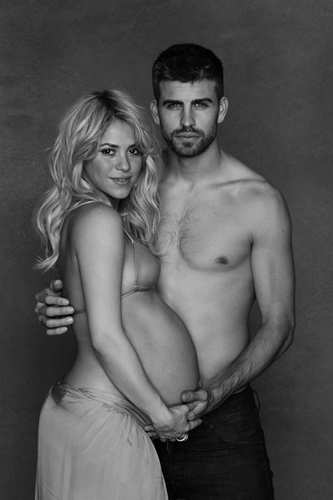 Baby daddy Gerard Piqué first played paparazzi by giving the world a peak at their bundle of joy on January 23 when he posted a Twitter pic of Milan's feet. Since fancy footwork is the name of the game for this football-playing dad, it's no surprise that the first photos he shared of his son were of his sweet custom Nike kicks.
Mamma Shakira shared the first real baby picture of her son Milan on Monday when she tweeted a picture along with a link to their online baby shower supporting UNICEF.
The sweet photo showcases the best of father son love as Piqué tenderly kisses tiny Milan in the palm of his hand.
The photo is also posted on Shakira's UNICEF website along with maternity photos of Shakira and Piqué where she showcases her fierce baby bump. "Visit our @Unicef #Babyshower to see the 1st pic of my 2 angels & help underprivileged babies," Shakira tweeted.
The couple is supporting UNICEF by requesting that people donate to the organization in lieu of sending gifts. The charity is accepting donations of $5-$110 in honor of Milan's birth. The UNICEF gifts will be used for polio vaccines, oral rehydration salts, therapeutic foods and more.
Milan Piqué was born on January 22 in Barcelona, Spain. When the couple announced the arrival of baby Milan, they said his name was pronounced "MEE-lahn" and explained that it means "dear, loving and gracious in Slavic; in Ancient Roman, eager and laborious; and in Sanskrit, unification."
After seeing the first two adorable pictures of Milan, we can't wait to see more of this little cutie!
Photo: WENN, photographed by Jaume Laiguana
More celebrity baby news
Kate Middleton's pregnancy gives England baby fever
Confirmed: Pregnant Kate Middleton's due date is in July
Keeping up with the Ks: Baby names for Kim Kardashian and Kanye West