Lansinoh Releases New Breast Pump
Every nursing mom knows that an effective and efficient breastpump is a complete must when you are exclusively giving your baby breastmilk.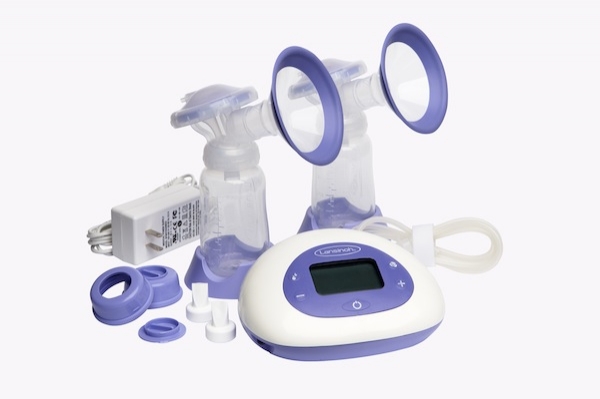 What's new, Lansinoh?
To make life easier for nursing moms, Lansinoh, the market leader in breastfeeding accessories, just released its new breast pump. Newly on the market at major retailers nationwide, the Lansinoh Affinity Pro Double Electric Breast Pump is the first pump that offers three pumping levels to help moms maximize milk flow, increase comfort (thank you!) and enhance breastfeeding success overall. The new pump is also very affordable at just $130 at retailers like Target, Babies R Us and Walmart.
The three different pumping rhythms and eight suction levels give moms many options when it comes to finding the comfort level and efficiency that she desires. The pumping rhythms help customize the pump to imitate baby's natural sucking rhythms, which helps mom continue to produce milk and maintain her supply.
Another important amenity is the pump's hygienic design which guarantees expressed breastmilk will not back up into the tubes and pump motor, eliminating the possibility of bacteria and mold growth in the tubes and the unit. For moms who have dealt with the annoying issue of expressed milk getting sucked back into the breastpump instead of out into the bottles, this feature is invaluable.
Huge step forward
Lansinoh CEO Kevin Vyse-Peacock says of the new pump, "The debut of the Affinity Pro is a huge step forward in breast pump technology, and we have already received tremendous positive feedback from moms who have tried it and were able to get a better, more comfortable and positive pumping experience."
He adds, "Ideally, mom and baby are together for nursing, but in our society, moms are returning to work after having their children. These breastfeeding moms need a high-quality pump to ensure that their breastfeeding journey is not unnecessarily interrupted."
Early accolades
In October of last year, the Affinity Pro pump was recognized as a finalist in the Juvenile Products Manufacturers Association 2012 Innovation Awards.
For new nursing moms and particularly for working moms who have to pump milk for their babies while they are at work all day, having an effective and comfortable pump is a must-have.
More on nursing
Breastfeeding as a working mom

Tips for exclusively breastfeeding
Breastfeeding babies: On schedule or on demand