Tip-Over Hazards
If you have a Natart Chelsea or a Million Dollar Baby dresser in your home, you'll need to check out this recall to find out what to do.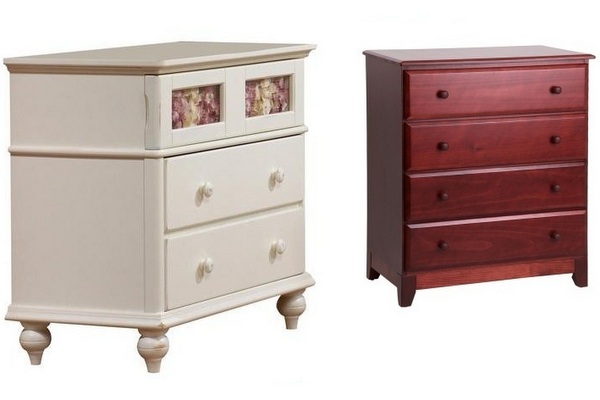 The CPSC, in cooperation with Gemme Juvenile and Bexco, have recalled over 18,000 dressers -- Natart Chelsea and Million Dollar Baby brands -- due to tip-over hazards after receiving reports of suffocation deaths.
Product description: There are two brands of dressers involved in these recalls.
Natart Chelsea dressers
Around 300 dressers are involved in this recall. The Natart Chelsea dresser is a three drawer, windowed dresser that bears the model number 3033. They were sold in five different styles: Cappuccino, Cappuccino with a brown top, Ebony, Ebony with a brown top, and Antique or French White. The dressers measure 35" high by 21" deep by 39" wide.
Million Dollar Baby dressers
Around 18,000 Million Dollar Baby dressers are involved. The "Emily" style four-drawer dressers which have the model numbers M4712, M4722, M4732 and M4742, and the similar "Ryan" dressers with the model M4733.They were sold in five different styles also: Cherry, Ebony, Espresso, Honey Oak and White. The measurements for these are 33" high by 20" deep by 40" wide
Where/when it was sold: The recalled Natart Chelsea dressers were sold at Furniture Kidz and other independent juvenile specialty stores and at Baby.com from January 2005 to December 2010 for between $600 and $900. The recalled Million Dollar Baby dressers were sold at JCPenney and independent juvenile specialty stores nationwide and online at Amazon.com, BabiesRUs.com, BabyUniverse.com and other online retailers from January 2006 through June 2010 for between $230 and $300.
Reason for recall: The CPSC has received reports of suffocation deaths from both brands. The dressers tipped over and trapped the children -- reports from Million Dollar Baby cited an 11-month-old boy from Tulsa, Oklahoma and a 20-month-old girl from Camarillo, California who died. And a report from Natart Chelsea, a two-year-old boy from Barrington, Illinois died.
What you need to do: Consumers should immediately stop using these dressers and keep them out of children's reach and contact the company for a free retrofit kit that will keep the furniture from tipping.
Company information: For the Natart Chelsea dressers, contact Gemme Juvenile toll-free at (855) 364-2619, 9 a.m. and 5 p.m. ET Monday through Friday or visit their website at www.chelseawallanchors.com to receive the free wall anchor kit.
For the Million Dollar Baby dressers, contact their website at www.themdbfamily.com/safety2 and click on Safety HQ or call toll-free at (888) 673-6652 between 8:30 a.m. and 5 p.m. PT Monday through Friday.
More baby product recalls
Recall: Target Circo brand pajamas
Recall: Bugaboo Chameleon and Donkey strollers
Recall: Fisher-Price Rock 'n Play infant sleepers
Image credit: USCPSC