A "Secret Checklist" For The Hospital
The Mommy's Maternity Essential Bag from 1-800-Baskets.com promises to send mom off with everything she needs for her stay at the hospital. We spoke with Dr. Elizabeth Chabner Thompson who created the bag and got the scoop on how it can help make mom's stay easier.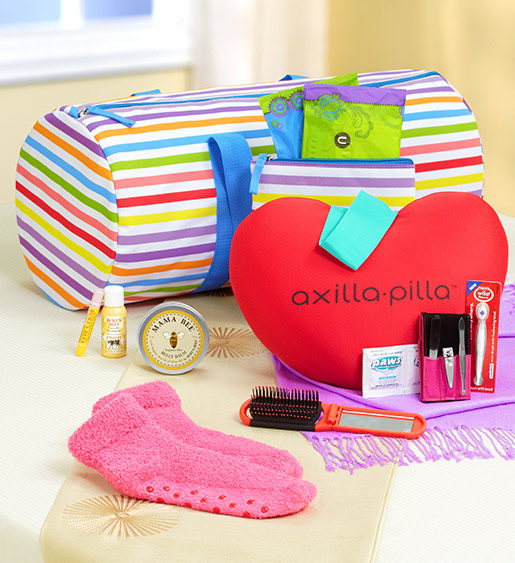 The idea behind the Mommy's Maternity Essentials bag evolved from Dr. Elizabeth Chabner Thompson's original product, the Breast BFFLBag, which was created to help patients recover from breast surgery. Initially the maternity bag was created with moms recovering from a c-section in mind, but they found that the product was a great fit for both moms with a traditional delivery and those undergoing surgery.
"There are so many things you have to think about to prepare that this would just take one thing off your plate. That bag will be ready to go when it's time to deliver," Dr. Thompson explains.
Since 1-800-Baskets.com already provides special gifts for pregnancy and giving birth, it made sense for Dr. Thompson's BFFL Co to team up with the company and make the maternity bag available for easy gift giving.
The ultimate baby shower gift
Dr. Thompson says that most people focus on giving baby gifts like diaper bags or newborn layettes at showers – items for baby. The BFFL Co and 1-800-Baskets.com team decided to focus on mom. "We really wanted to get the mom prepared because a happy, healthy mom often translates to an easier time caring for a newborn," she said.
Not only is this bag great to give at a baby shower, Dr. Thompson says it's a great gift for a husband to buy a wife. It's also a nice option for a mother-in-law to send when she doesn't know what else to get her daughter-in-law, but wants to treat her to something special.
Pampering for mom
Hospitals tend to provide no-frills basics and this bag comes with a bunch of swag that will pamper mom on her big day. Burt's Bees products were included because they are soothing, have a nice smell and are organic. The Mama Bee belly balm can be used throughout pregnancy and the travel lotion and lip balm will come in handy during her time at the hospital -- moms notoriously use a lot of chapstick during labor.
A little grooming kit with nail clippers, a file, and tweezers are included because the last thing you want to worry about while going through a 12-hour labor is that pesky little hangnail that's driving you nuts. Dr. Thompson says that it also provides you with something to do while you're waiting to deliver.
There's also a pair of cozy socks with floor grippers since "hospitals are notorious for having cold floors and nobody wants to put their bare feet on the floor." 
A pretty shawl serves a dual purpose. "Moms not only can stay warm, but afterwards when they are taking pictures they have something that makes them look quasi-glamorous in the photograph even though they've just been through labor," Dr. Thompson describes. A neat trick for looking luxe after labor.
The axilla•pilla® is a particularly special treat. It's a soft micro bead pillow that can be used for both delivery and beyond. "You can use it as a prop if you have back pain, put it behind your back when you're laboring, it can be used as a neck pillow, and best of all it can be used as a nursing pillow." The pillow can come in handy right after delivery when women tend to struggle with nursing, Dr. Thompson explains. "It's difficult to know how to hold a new baby and nurse either when you're lying down or still have an epidural and the pillow is a wonderful prop."
Each Maternity Essentials Bag comes with a zippered pouch that's perfect for stashing any valuables you don't want misplaced while staying at the hospital. Dr. Thompson recommends that dads help keep track of those personal items for mom.
Packed and ready to go
The Mommy's Maternity Essentials bag was designed to include nearly all the must-have items needed for a maternity hospital stay, but you might want to add a few personal items.
Dr. Thompson recommends packing a comfortable outfit that you want to wear coming home from the hospital, which you can pack ahead of time. Other personal items you may want to add include your cell phone and charger and important documents you might need like your birthing plan or insurance information.
If your delivery date is during summer, you might be able to leave your maternity bag in the car ready to go. If giving birth in the winter however, Dr. Thompson recommends leaving your maternity bag in your bedroom so that toiletries don't freeze up.
"Secret checklist"
"These bags are meant to be like a tip sheet from somebody who's been through it to somebody else. It's almost like you are handing over the secret checklist and what we wanted to do is make that accessible to everyone," describes Dr. Thompson. And this bag is essentially that checklist in products.
"The message is 'Get well, we're thinking of you' and here's a very useful and practical gift to give someone at a time when they are having a baby," says Dr. Thompson.
A bonus? Besides being super practical the bag is also totally cute too!
The It's Time! Mommy's Maternity Essentials Bag ($90) is available from 1-800-Baskets.com.
More gift ideas
What are push presents?
Unique gift ideas for new parents
5 Favorite baby books