Feel The Burn When It'S Freezing Out
Let's face it. Between the freezing temperatures, dreary winter days and pregnancy fatigue, it's all too easy to curl up in front of a cozy fireplace with a cup of hot cocoa rather than moving your booty. However, if you maintain a cold weather exercise routine while you're pregnant, your body (and baby) will thank you.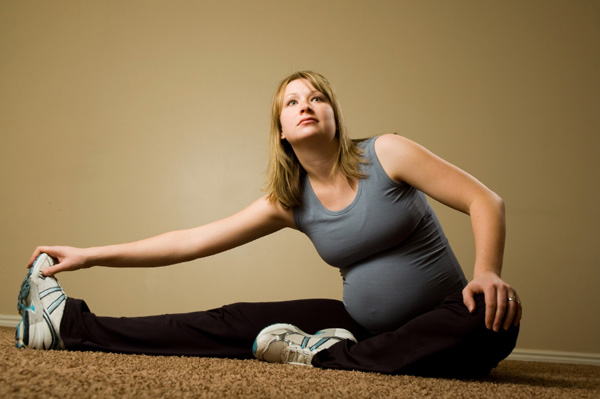 As if battling pregnancy fatigue wasn't enough of a challenge, being pregnant during the cold winter months makes it even harder to get up and get moving. It might seem like a huge challenge at times, but if you maintain a regular prenatal fitness routine chances are you'll have a healthier pregnancy.
The perks
Not only can exercise help you maintain a healthy weight gain during pregnancy, it also can help you sleep better, reduce aches and pains caused by your stretching body, and can make the birthing process easier. Plus, exercise releases endorphins, which can help battle winter blues.
Pregnant women's bodies run a bit hotter and some women find that exercising in the brisk weather can help regulate their temperatures
Safety first
Before starting any exercise routine, make sure to discuss your choices with your healthcare provider. Be careful if walking in the snow since your balance might be off a little bit due to your growing body and take your workouts indoors if weather is temperamental.
Exercises to try when it's cold out:
Take a brisk walk
Walking for at least 30 minutes a day can help make your birthing process easier. If venturing outside in chilly weather, make sure to have proper footwear and don't go walking if it's icy out -- you don't want to slip and fall. Make sure to bundle up with a jacket, scarf, and gloves, but be cautious about overheating if speed walking.
Walking outdoors has a the added meditative benefit of getting fresh air and can help keep you from getting cabin fever during the winter months.
Too cold to go outside?
If you are in your second or third trimester, chances are your regular winter clothes aren't fitting anymore. If you don't want to spring for new cold weather workout gear and it's too cold to head outside, then jump on a low-impact aerobic machine. A treadmill, elliptical, or stationary bike machine are great indoor options.
Don't have a gym membership or fitness equipment at home? Try walking in place or going up and down the stairs for 20-30 minutes to get your blood moving. If climbing stairs, make sure to hold onto the rail for support and only do this up to 36 weeks of pregnancy (beyond that and your growing belly makes it difficult to balance).
Take a lap
You might feel shy about busting out bathing suit right now with your changing body, but swimming is a favorite exercise choice for pregnant women. The water holds up your body giving it rest from the strain caused by weight gain and it's difficult to overheat in the pool. You are able to get in both cardio exercise and tone muscles with lap swimming. Many gyms also offer water aerobics as an alternative.
If you live in a mild climate you might be able to use an outdoor pool with a heater, but if temperatures are freezing, look for an indoor pool at your nearest fitness center. Pick up a maternity swimsuit and bare your body with pride.
Get zen
Prenatal yoga and pilates are great options for those days when the workout motivation is low. Not only do you get to stay in your comfy pants, you'll also get in enough exercise to make you feel energized even if you're battling a case of pregnancy fatigue.
Try to find an instructor who specializes in prenatal fitness. If there aren't any prenatal yoga or pilates classes offered in your area, pick up a prenatal exercise DVD that you can do at home. On a budget? Try searching You Tube or other websites for prenatal exercises you can stream to your computer for free.
More on pregnancy fitness:
Want a fit pregnancy? Try Prenatal Dance
Yoga and your pregnancy
More research supports safety of exercise during pregnancy