A Stylish Bib For Babe
Tired of constantly washing cloth bibs and cleaning up after baby? You'll want to take a look at the new Modern-twist Bucket-bib.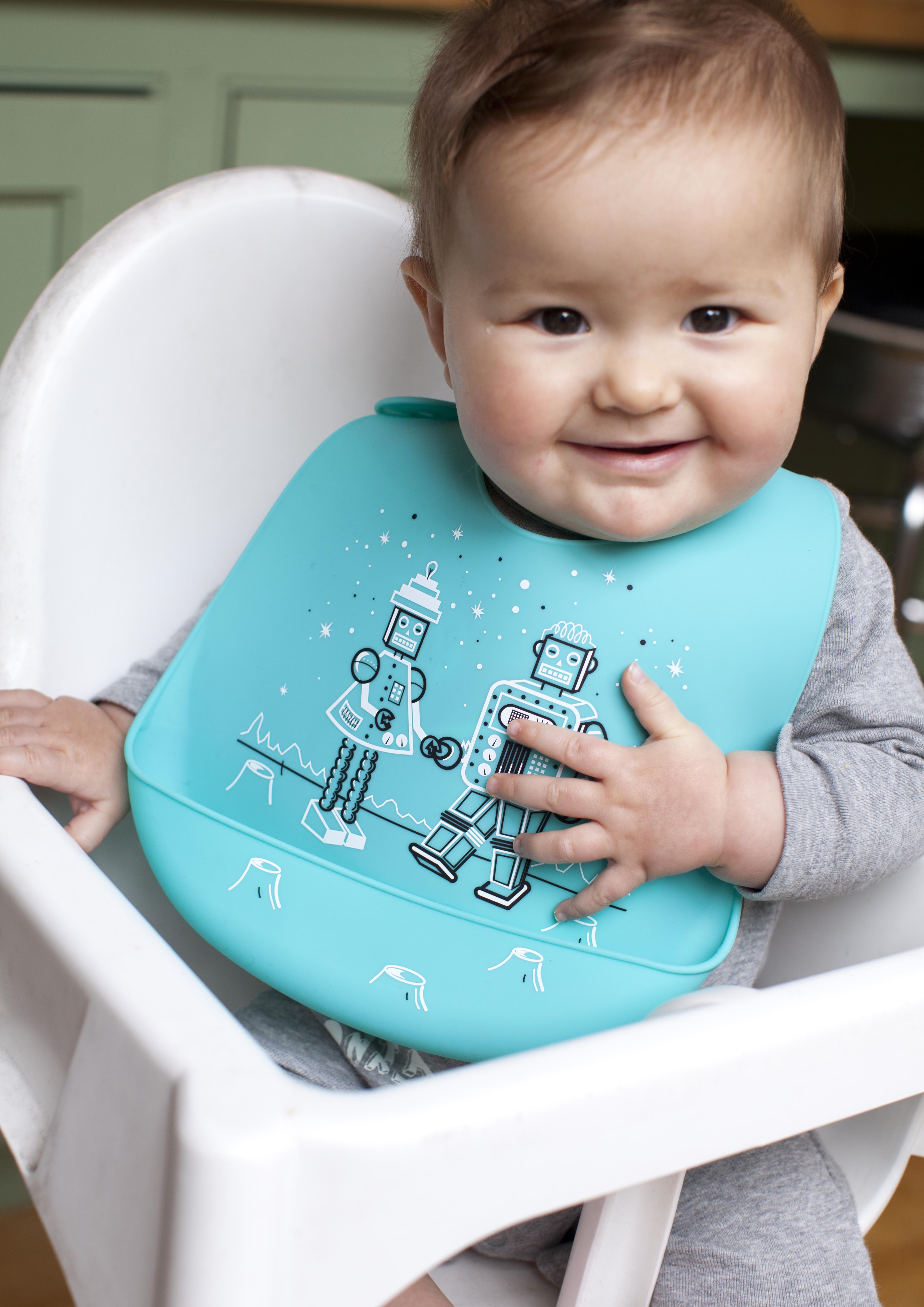 As an expecting mom-to-be, I often find myself overwhelmed with the vast amount of baby products available. One piece of gear that I'm infatuated with is a baby bib. Little bibs with their oh so cute sayings and designs are so tempting to scoop up in bundles, but I worry about how efficient they really are in reality.
Am I really going to wash a bib after each feeding? That seems like a lot a work! Plus, while a cloth bib is more earth-friendly than a paper product, it does seem to unnecessarily add to the laundry pile.
And really? How many new moms actually wash a bib after every use? Likely not many which means that a cloth bib can be a breeding ground for dirt and bacteria.
A traditional bib that goes straight down seems to do little to collect the various bits of food that end up in a tot's lap – yet another piece of clothing that will end up in the wash.
Given these conflicted feelings, I was thrilled when the folks at Modern-twist gave me a sneak peak at their new Bucket-bib which retails for $19.95 each.
The product
The Modern-twist Bucket-bib is made from 100% all natural silicone. The non-porous durable material makes it resistant to stains and easy to clean. The deep pocket design is meant to catch random chunks of food that misses baby's mouth (including the new food you are trying to get her to eat that she immediately spits out in protest with a nasty face).
Even though it's made of a durable material, the silicone bib is actually surprisingly soft to the skin and flexible to move. The adjustable neck size is made to accommodate babies starting at 6 months and up.
Safe for baby and the planet
As a new mom, it's understandable to be concerned about the types of materials and chemicals used in baby products – especially ones that will be near their mouths. Rest assure nervous Nellies, the Bucket-bibs are free of BPA, lead, latex, and phthalates. Plus the bib is 100% recyclable (just send it back to Modern-twist).
Looks sharp
The best part? The bib looks awesome. The chic design would be much appreciated by stylish mommas (and papas). The graphics are hand silk-screened and the bib comes in four colorful hues -- purple, pink, teal, and red.
Easy-peasy
The most appealing aspect about the bib is how easy it is to clean up. Unlike cloth bibs, you can throw this bad boy in the dishwasher! For light cleanups or to extend use, wipe or wash it by hand.
The bib also rolls up really small so it's easy to stick in the diaper bag when you're on the go.
Bonus
The product packaging is cleverly designed so that if you are giving the Bucket-bib as a gift, you can just roll up the bib into the top box and sign your name.
Doesn't get much easier than that!
More on baby gear:
SwaddleDesigns: Premium baby linens
How to save on baby gear
New: Seventh Generation's baby home cleaning products