Shopping For Baby
Does the mere thought of entering a baby superstore send you flying into a panic attack? A personal shopper might be just the ticket to help you choose the baby products you need when putting together your baby registry.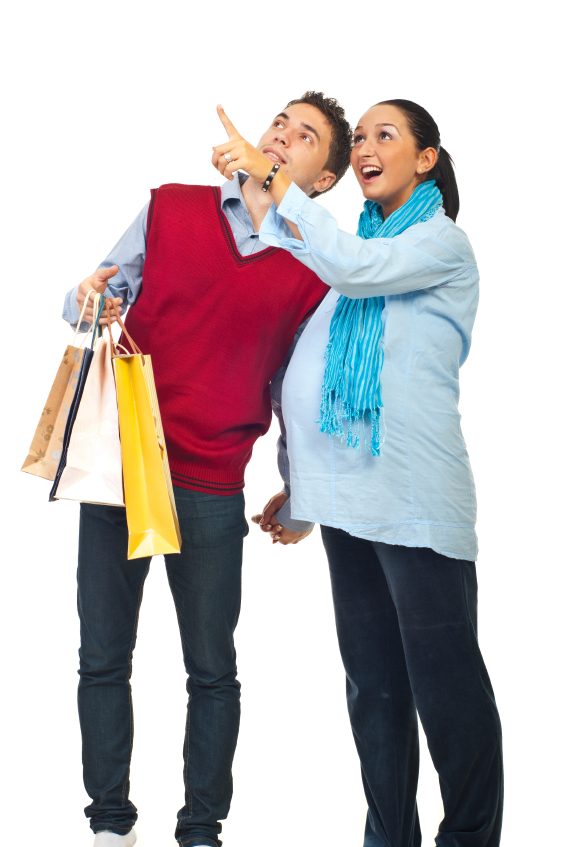 You're in a baby superstore trying to register for your shower and after an hour of staring at a wall of 100 different varieties of bottles, you haven't registered for a single thing (other than that cute little newborn outfit you saw when you first walked in the door). Sound familiar?
Where do we start?!?
As expecting parents, my husband and I were mind-boggled at the amount of baby products available. I had visited several popular baby stores and walked up and down the baby aisles of Target and yet all I could manage to do was wonder around the store aimlessly not even knowing where to start.
In a new city several states away from our nearest relatives and closest friends, I wasn't able to grab a trusty girlfriend and ask her to go with me to a store for help. After trying to inconspicuously listen in to a group of girlfriends I saw registering together at a baby store, I feared that I was getting a wee bit too pathetic and officially needed an intervention.
A friend graciously recommended that we enlist the help of a personal shopper to guide us in selecting baby products. It was one of the best decisions we made.
My hubby and I met with a personal shopper at Buy Buy Baby who helped us get over that deer-in-the-headlights look that so many new parents seem to have at baby stores.
The perks of working with a personal shopper
Personal attention: While most store employees seem happy to help show you products and answer questions, they're typically assigned to certain sections of the store and can't walk with you from place to place. A personal shopper can walk you through the whole store and you don't have to share him or her with anyone else.
Demonstrate products: If baby products are foreign to you, it can feel like you need an engineer's degree to even put a baby contraption together. A personal shopper doesn't just demonstrate how to set up a stroller, they can literally hold your hand as you try and practice it too.
Compare product differences: Wondering what's the difference between a travel system, jogging stroller, and umbrella stroller? A personal shopper can help point out the differences and help you decide what's the best option for your lifestyle.
When a splurge is worth it: Store employees can be very knowledgeable about the durability of products since they get to see which ones unsatisfied customers bring back. If you get a savvy personal shopper, they can give some insights as to when a high-end item is worth it (or isn't).
Which items to hold off on: As new parents, it's hard to know which items you need to bring baby home and which you can wait a few months to decide on. Our personal shopper actually suggested waiting on selecting a toddler car seat since they expire after a few years – something we had no clue about.
If you do work with a personal shopper…
Try to go during the week when the store is less crowded and you can play with products at your leisure.
Baby stores typically provide personal shoppers as a complimentary service, but make sure to ask if there is a fee just in case.
Ask if the shoppers works on commission, if they don't then you'll feel better about the more expensive products they recommend.
Come prepared…or not. Now is the time to bring your long list of baby product questions so you can pick the personal shopper's brain. If you are too overwhelmed to prepare, don't stress, simply say, "I'm so overwhelmed I don't know where to start" and let them help guide you. After all, they're there to help.
Happy shopping!
More on buying for baby:
Where to register for your baby shower
Baby gear to make mom's life easier
Preparing for twins: Baby products checklist