Want To Be A SAHM?
When you're expecting, you've got lots of decisions to make... including whether you are going to continue to work or stay at home with your baby. How do you decide which is right for you?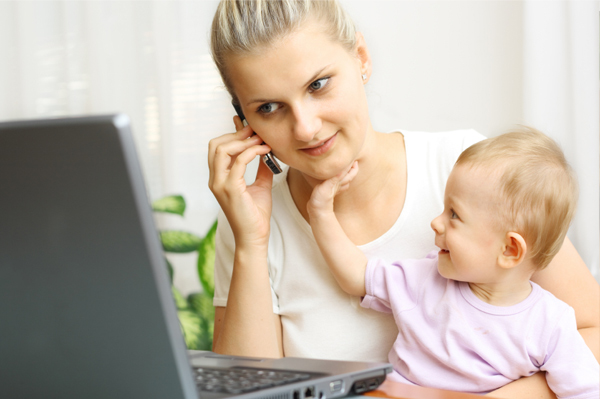 Working mom
Many women don't have the option to stay home and working full time while raising a family certainly has its challenges. However, it can be extremely fulfilling and rewarding as well.
If you have the option to stay home but decide to continue working full time, don't bother stressing over mom guilt. It is a waste of time. Think of the financial security you are offering baby by maintaining your career. It is also great for baby to see his mom succeed at her job!
If you and your partner are both working full time, make sure you maximize the quality time you do have together as a family to bond with baby. When you're at work, don't focus on baby (this helps if you find really great and trustworthy care for him while you're at the office) and once you leave the office for the day, avoid the temptation to take business calls (unless they are emergencies) or check email.
It's also important to balance the work-family load with your partner so all the parenting duties don't fall on Mom in addition to her "day job."
Stay-at-home mom
Being a stay-at-home mom may be the best job in the world! But it too has its challenges. It can be isolating and even boring for some women. If you stay at home with your child, keep busy with fun activities for him as well as activities to keep you intellectually and socially stimulated. Organize a moms' group, start a blog and go out with your girlfriends (without the baby) at least once a month.
Work-from-home mom
If you can find a job you can do at home while being with baby, you've found the honey pot! This opportunity is becoming more feasible due to the telecommuting options that abound with today's technology.
However, balancing the two at one time can be a real struggle. Make sure you manage your time wisely so you can dedicate the time needed to both baby and work without feeling completely strung out by the end of the night!
More motherhood advice
Can you afford to be a stay-at-home mom?
Labor after delivery: Working versus staying at home
Mother: Guilty as charged