Is This Place Baby Friendly?
In baby's first stages of life, you may find you need to adjust your schedule -- but that doesn't mean you have to stay home for a year! Get out and about with baby at some appropriate places and leave him at home with the sitter for others.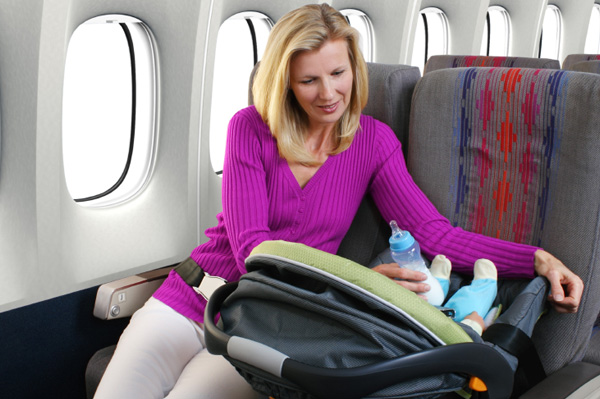 Airplanes
While you may get some dirty looks as you board the plane with baby, there is no reason you should cancel your travel plans because you have a child.
You can, however, do some planning to ensure your flight – and the flight of those around you – is as smooth as possible. Book a red-eye flight that baby can snooze through or be prepared to nurse him on the plane if the pressure change causes his ears to hurt. Bring lots of snacks or bottles and little toys to keep him entertained. If baby is super fussy despite all your best efforts to soothe him, offer to buy a round of drinks for the passengers immediately within earshot.
Fancy restaurants
This one is a "no" for me. Fancy restaurants are usually fairly quiet and not really a fun place for babies, in my opinion. If you are going out to a fancy restaurant, get a sitter so you can enjoy the dinner and the company without interruption.
The movies
This is a tough one that is really a personal choice depending on your baby's behavior. If your baby is calm and quiet and will snuggle with you the whole movie through, go for it! But if he is fussy, will likely want to escape from your arms and crawl around the theater or in other ways disturb the surrounding movie-goers, just stay home, rent a movie and let your baby roam around in the comfort of your own home.
The library
This is one of my favorite places to take my babies… well, when they were babies. Our local library has a wonderful child-friendly area and a fabulous story time schedule with specific classes just for babies and parents, and it's likely your library does, too.
A concert
Concerts are definitely no-no's for babies. The environment of a concert is probably way too overwhelming for him to enjoy anyway and the nature of the loud music at a concert could hurt his little ears. Leave baby at home for this outing.
More on taking baby out
Tips for traveling with a newborn
What a trip! Air travel with an infant
Tips for taking baby out in public