Let's Play!
As a new mom, you might be so busy caring for baby that you forget to take some time out for that all-important play. Bond with baby through fun and games!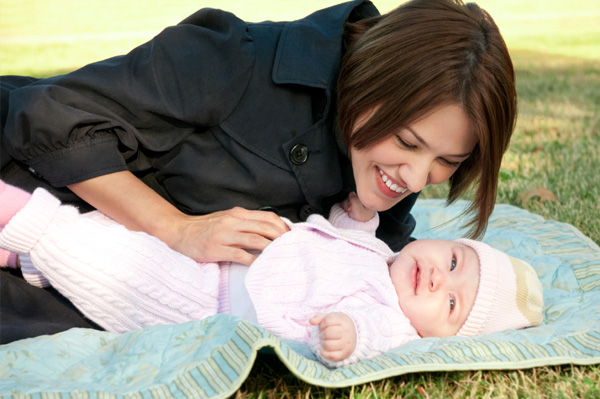 Rollie pollie
Young babies can have a blast just exploring the world around them -- at their level. Spread out a large blanket and get down on the floor with baby to roll around, practice tummy time or just hang out. Set out some textured balls that you can help baby touch, hold and roll or help baby stack and knock down wooden blocks.
Park it
A day in the park can be fun for kids of any age -- even infants. Parks offer a veritable wonderland of color and texture. From sand and grass to brightly hued playground equipment, the park can be a total sensory experience for baby. If he is too timid to leave your side for the vast grounds of the park, walk around with him in your arms and explain the new sights: "This is the slide. Wee!" or "Ohh, the swings. Woosh!"
Snow day
If you live in a locale with lots of snow in winter, bundle baby up with plenty of layers and waterproof outerwear for a snow day. Choose a day when the wind is calm as freezing cold wind is no picnic on baby's sensitive skin. Very young babies may enjoy short stints in the snow while you can probably extend your stay out in the snow for slightly older babies who get a kick out of getting down and dirty in the powder.
Once you're done with your snow play, take off baby's wet and cold clothes, change him into something warm and dry and continue your play by a warm fireplace!
Book worms
Create a budding book worm by exposing baby to not only books but your own stories as well. Make up a character (inspired by baby, perhaps?) and tell your baby all about him and his adventures. If you're crafty, make felt finger puppets or old sock puppets to help your stories come to life. Check our your local library for story times geared just for babies.
More on baby play time
Adding playtime to your baby's schedule
How play stimulates baby
The importance of solo play for baby