Baby, Don't Touch That!
Even though it's tough to imagine your newborn getting into your china cabinet, that day will come sooner than you think. Babyproof your home for all of baby's curious stages.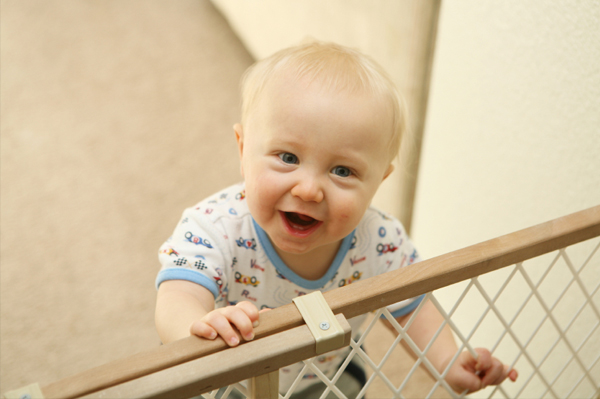 Newborn to six months
You won't have to worry about too much at this stage -- baby is too small to move very far on his own. Watch for items that baby can swat or grab at such as a lamp cord too close to his crib or pull-strings on mini-blinds near his changing table. During the latter part of this stage, baby may be able to sit up on his own, so make sure that he's seated in a safe spot away from anything you don't want within his grasp.
It's a good time to get ahead with major babyproofing projects like installing a pool fence and high door locks.
Six months to a year
Get movin' on babyproofing as baby will start to crawl, cruise and maybe even start to take his first steps in this stage. Tuck TV, computer and other cords out of reach. Also clear breakable/ hazardous items (like ones baby might want to put in his mouth) off coffee tables, nightstands and side tables. Cover your used electrical outlets with baby-proof plugs. If you have any low drawers and cabinets, get babyproof locks on those as well.
Don't forget a lock on the toilet if baby likes water play and enlist the use of baby gates to keep baby out of rooms that are off-limits (like the one with the china cabinet!).
One to three years
As baby progresses from baby to toddler, she'll likely get into... well, everything she possibly can. Make sure all kitchen and bathroom cabinets and drawers are secured with baby-proof locks. Begin stowing away all counter top items that could pose danger for baby... like the blow dryer you keep on your vanity or the knife block on your kitchen counter.
If you don't have an oven range with knobs on the back of the range, be sure to put locks on those too and you may even need a security bar on your refrigerator if baby is really interested in getting into your perishable foods (if only just to play with them!).
Stabilize bookshelves and big items like flat screen televisions to the wall to avoid scary tip-over accidents.
Step stools can help older toddlers get to the places they are allowed to reach, such as their bathroom sink. Be sure that the stool has slip-proof pads on the legs and that younger toddlers are supervised when using it. While they can be a great tools... some babies may find some mischievous ways to use their step stools!
More on baby safety
Keep your baby safe from dangerous poisons
Can you 'babyproof' your marriage?
Playground safety for baby and toddler