Hooray For Snow Days!
Baby, it's cold outside! If you're planning on taking baby out in the cold, make sure he's dressed for the weather.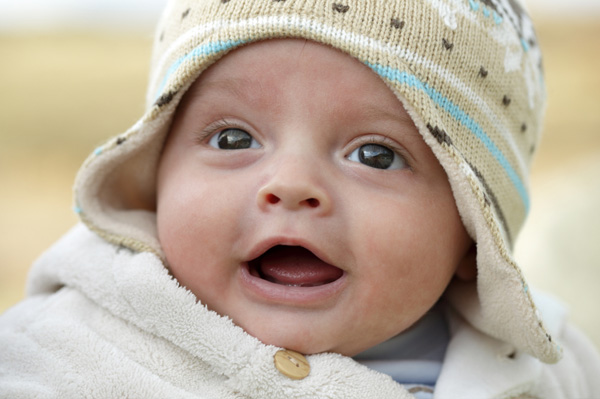 Layers
Layering is key when dressing baby for a cold winter's day. Start out with a long-johns style onesie -- with long sleeves and leg/feet coverings. From there you can add sweat pants, sweatshirts and jackets as needed.
Cover those extremities
Baby may not love having anything on his head, but it's very important to keep his head warm as well as his hands and feet. Select a warm hat that covers his ears and one that you can tie underneath his chin so it won't blow off in a gust of wind. Select mittens that attach together so one doesn't get lost in the snow.
Make it waterproof
When selecting outerwear for baby, your priority is to keep baby dry. Especially if baby is crawling or learning to walk, you'll want to invest in snow pants and glovesthat can withstand some play in the snow without leaving baby's bottom, feet or hands soaking wet and cold.
Protect baby's face
Sun reflecting off fresh bright white snow can cause as much damage to baby's new skin as a day at the beach. Check with your doctor about an age-appropriate sunscreen to protect baby's sensitive skin from the winter sun. You may also want to use a balm on baby's cheeks to protect them from windburn. Johnson's Soothing Naturals soothe and protect balm, around $6, is designed to be gentle enough for baby skin.
Pack extras
As always, anytime you venture out with baby, be sure to bring plenty of extras! In this case, bring an extra long-johns style onesie, pants, sweater or sweatshirt and some blankets or towels in case baby needs to be bundled up snuggly after a romp in the snow.
More on dressing baby appropriately
How to dress baby for transitioning seasons
Step-by-step guide: Dressing your baby
Dressing your baby for comfort