Rock Your Individual Maternity Style
Maternity fashion runs the gamut from sleek and even sexy to casual and loose. Find the pregnancy style that's just right for you.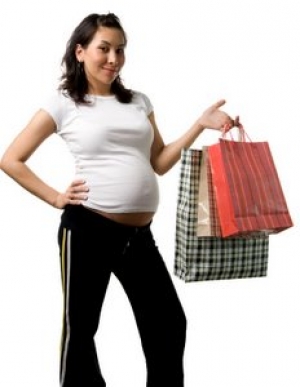 Fitted, not tight
There is nothing wrong with showing off your baby bump with fitted clothing. However, there is a difference between wearing a form-fitted maternity dress and trying to rock your pre-pregnancy skinny jeans that are clearly way too skinny at this point in your pregnancy.
Don't try to fit into something that no longer fits. Not just for looks but also because wearing clothing that is too tight can cut off circulation in your body. Not fun.
Simply put your pre-pregnancy favorites away and try to find some similar styles in the maternity section of your favorite store. Instead of skinny jeans, opt for leggings or jeans with some stretch and give (plus that handy baby belly waistband).
Ditch the heels
Wearing sky-high stilettos during your pregnancy may not be the best idea. For one, your equilibrium is a bit off during pregnancy and a spill from up on your 5-inch heels could be dangerous for you and baby! Wearing such high heels can also contribute to swelling in your feet and ankles.
Well give you the okay to rock your heels to a special occasion or two during your pregnancy, otherwise take advantage of flat-soled trends like riding boots and ballet flats. Your tootsies will thank you!
Bat wing tops
Speaking of trends, one of the hottest trends are loose tops with bat-wing stye sleeves -- a pregnant woman's best friend! Combine a cute top in this style with leggings, riding boots and a fun scarf and you'll be one hot mama to be this cool season!
Dress for your comfort
When trying to find your pregnancy style, don't wear anything that doesn't feel like "you." Dress for comfort with a little of your own individual style mixed in (like a signature color or accessory) and you'll look fabulous all pregnancy long.
More on pregnancy style
Celebrity maternity style: Copy their looks for less
10 Ways to save on maternity clothes
Do's and don'ts of pregnancy fashion