Take A Cozy Trip Before Baby Arrives
Oh the weather outside is frightful... but that doesn't mean you can't enjoy a romantic babymoon. In fact, the cold weather will give you even more reason to snuggle close.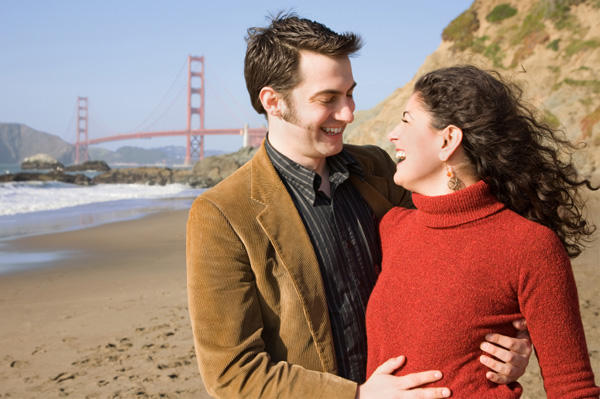 Cabin fever
Rent a cabin in a posh ski village or in a secluded forest town. Stay cozy in each other's arms by the fireplace sipping hot chocolate or decaf coffee. You can even indulge in a fireside glass of wine if your doctor okay's it.
Though skiing and other winter sports activities like snowboarding are off the list, you can build a snowman (and woman and baby!) with your partner, take romantic strolls and enjoy a true white Christmas.
Get exotic
Ready to warm up this season? Head to Miami, Hawaii or Cabo for a tropical winter babymoon. Relax by the shore or get a beachside prenatal massage. Remember, depending on how far along you are in your pregnancy, you'll need to take caution when flying (or driving) long distances. Check with your doctor before you plan your babymoon, tropical or otherwise, to ensure your and your baby's safety.
Visit a landmark
If you haven't yet had your pregnancy photos, travel to your favorite city or visit a place you and your husband haven't yet been to have your pregnancy photos taken. Not only will you create memories from your trip, you'll have some amazing photos to cherish forever.
Staycation
Stay and play at a fancy resort in your hometown. Book reservations at a ritzy restaurant or for a New Year's Eve ballroom celebration. Just because you're pregnant, doesn't mean you can enjoy dancing the night away and even a champagne toast at midnight -- hey, you don't have to drink the whole glass!
Babymoon after baby
If you're taking your babymoon after baby arrives, take advantage of the beautiful wintery scenery as a backdrop for your baby announcement photos. Make sure that the locale you choose is family-friendly, check if the hotel you choose has cribs upon request and research a few baby-friendly restaurants and nearby parks.
More babymoon ideas
Babymoon: Before or after baby arrives?
Plan the perfect babymoon
When the babymoon beckons