Is It Appropriate To Tote Baby To Holiday Fetes?
No doubt your December schedule is packed with festive fetes. So the question is, should you bring baby along or leave her at home with a babysitter. Consider these factors before deciding.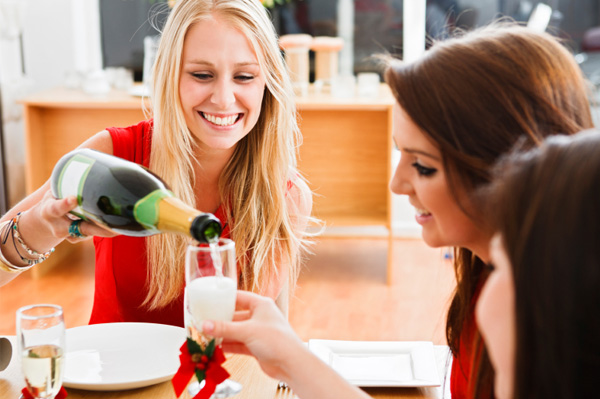 The environment
Where the party is held is one of the biggest factors that should help you determine if it's appropriate to bring baby along. For example, is the party at a friend's home where you can sneak off into a back bedroom to privately nurse or is the party at a loud restaurant or crowded bar?
What stage is baby in?
If baby is a newborn that is exclusively nursing, he'll need to come along. Wrap him in a sling and make your visit to the holiday party short and sweet – remember that babies can easily become over-stimulated.
If he's crawling and getting into everything (such as Christmas decorations on a tree, perhaps?), you may want to leave him with a sitter. Otherwise, you'll be chasing him all over the party instead of actually mingling and visiting with other party guests.
If your little ones are toddlers that can follow directions, sit politely and color while the adults talk or play nicely with other kids if the party is kid-friendly, then by all means, bring them along!
The company
If you're meeting your husband's boss and his wife as well as a few important company clients for an intimate holiday dinner party, call the sitter. This type of holiday get together is probably not appropriate for babies or little ones.
However, if you're getting together with family and close friends, they will probably be disappointed if you don't bring baby! Chances are they can't wait to get a chance to hug up on your little one (freeing you up for an adult conversation and maybe even a mom cocktail!). Enjoy the helping (and loving) hands – baby will, too.
Is baby fussy?
If baby has colic or gets fussy in overwhelming situations or he's kept up past his bedtime, it might be better for both you and baby to get a sitter. In all honesty, you'll be too busy trying to calm and soothe baby to enjoy the party anyway.
Are you planning on drinking?
If you're planning on partying it up at your holiday get together, make sure to get a sitter or send baby to your parent's for the night so you can let loose a little.
More on the holidays and baby
Handling the holidays when you're pregnant
Handling the holidays with a new baby
Should you go visiting with a young baby during the holidays?