Rest, Recovery And Recreation
The postpartum period can be a bit overwhelming as you adjust to your new baby and recover from childbirth. The good news is that this is the perfect time to really take it easy.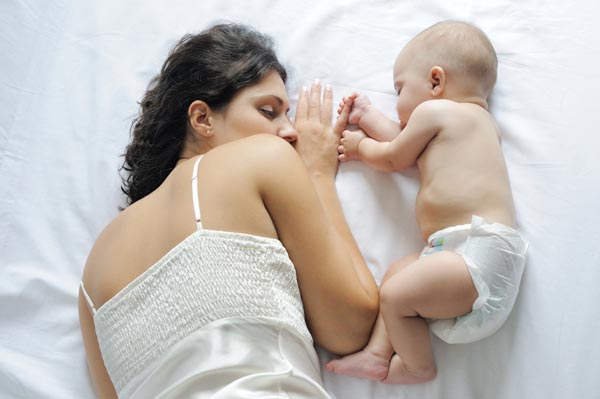 If this is your first baby, or if you have plenty of help with your older kids, now is an excellent time to kick back and really chill out.
Stay in bed
Enjoy your bed, mama. Bring any necessities with you (water, diapers/wipes, tissues, your laptop) and set up shop in your bedroom. You will find it easier to nap if you're already lounging around in your bed, and your baby will have the perfect napping surface -- you, or your bed (keep pillows and blankets away from her).
Watch TV
Use your recovery time to watch television or movies, or get caught up on (or get into) television series episodes on Netflix or Hulu Plus. This is the perfect time to watch highly inappropriate flicks that you wouldn't dare watch around your child when she's older, so cue up The Walking Dead to your heart's content while she's blissfully unaware.
Eat your favorites
Continue your healthy pregnancy diet, but now's not the time to worry about counting calories or limiting your intake. Have your family get your favorite takeout for dinner, or happily accept your mom's offer to bake your favorite treat as a celebration. Also, make sure that you keep your fluids up, and also eat plenty of protein as well as fruits and vegetables -- it will help with your energy level.
Grab some sunshine
Stay holed up in your bedroom as much as you can for the first couple of weeks to minimize the need or temptation to putter around your house and clean up, but do be sure that you try to get outside for a bit each day. It will boost your vitamin D as well as improve your mood and help you feel refreshed.
More on new moms
Making "me" time when you're a new mom
11 Ways to beat new mom fatigue
Taking care of the new mom